Mounting a LGA1366 waterblock on a LGA2011 Motherboard
Mounting a LGA1366 waterblock on a LGA2011 Motherboard
Author:

Dennis Garcia
Published:
Wednesday, December 07, 2011

Introduction
One thing most enthusiasts hate about hardware upgrades is the need to buy all new cooling gear. Historically this has been a problem since the days of the board mounted heatsink starting with the AthlonXP and Intel 478. While the length of time between socket changes has helped take the sting out of buying new gear the fact you have to do it is the issue.
The Intel X79 recently launched and with the new chipset comes an entirely new processor using the LGA2011 pin socket. As the name suggests this is a monster of a processor supporting quad channel memory, up to 8 hyperthreaded cores and 40 lanes of PCI Express. The processor has a TDP of 130w which incidentally is the same as the LGA1366 Nehalem line.
Could that be why LGA2011 uses the same heatsink footprint of LGA1366? I seem to think so. Of course there are a few differences. First, the entire package is lower than LGA1366 so heatsinks will not directly drop in. Second, where you normally see holes in the motherboard you find threaded screw holes. Third, there is no back plate other than the pin socket support meaning that everything is mounted on the top of the board.
Most companies are supplying upgrade parts to mount their LGA1366 compatible heatsinks on the LGA2011. These upgrades usually consist of a machined part that will screw into the socket base and allow the existing heatsink to mount directly to it. Pictured here is a
Thermaltake adaptor kit for the FrioOCK
.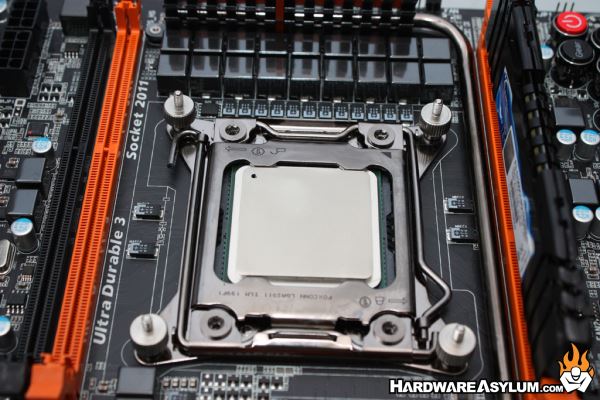 The question is. What if your heatsink or waterblock mfg is not supplying parts like this? And if not how else can you mount your cooler??

Believe it or not, the solution is simple and there is two basic ways to approach this problem.

Under the cpu socket you will find holes in the PCB which mimic the heatsink mounting holes we are all familiar with. What you don't see is any light coming thru these holes. That is because there is a gasket between the PCB and heatsink mounting plate and also acts as stop to prevent screws from threading too deep.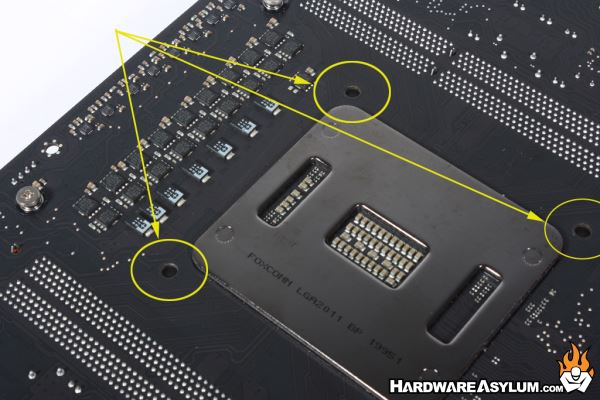 Method One
The first mounting method will use these heatsink holes by clearing away the gasket and allowing a threaded rod to pass thru the PCB and be secured from the back of the motherboard. This not only does this allow you to mount anything compatible with LGA1366 but also provides additional strength when mounting heavy items such as copper LN2 cooling pots.