Sapphire Office Visit - X79 Revealed
Sapphire Office Visit - X79 Revealed
Author:

Dennis Garcia
Published:
Tuesday, June 28, 2011
Pure Black 990FX
One of the coolest boards we saw at Computex was the Sapphire Pure Black 990FX. On the surface the motherboard looks like a typical AMD motherboard. CPU at the top, memory to the right and standard North and South bridge chips flanking the expansion slots. The difference here is the addition of the NVidia NF200 bridge chip.
The AMD 990FX chipset comes with 32x PCI Express lanes earmarked for video cards which is also enough to support 3-way SLI However when you add a bridge chip you can convert the 8x lane slots into 16x lane slots and increase overall bandwidth to your video cards.

Sapphire is taking this opportunity one step further and using the NF200 to supply bandwidth to all of the lower PCI Express slots much like what we saw on the EVGA P55 Classified. The preference will be for single card operation but if you choose to push the GPU limit this will be the board to do it with.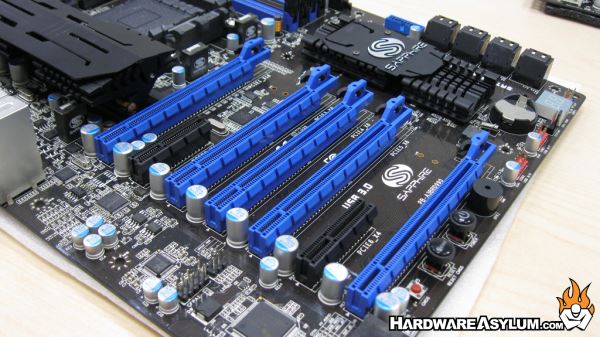 If you look closely the black 1x PCI Express slots are open at the back meaning that you could, in theory, install a 4x or 16x expansion card(s) into these slots without modification.
Of course you will only get 1x of bandwidth but, that is enough for most devices when overall speed is not an issue.