Sapphire Office Visit - X79 Revealed
Sapphire Office Visit - X79 Revealed
Author:

Dennis Garcia
Published:
Tuesday, June 28, 2011
Pure Black X79
One of the hottest items at Computex 2011 wre the Intel X79 motherboards on display at the respective booths and as a
group at the Intel booth
. As of this article the new LGA 2011 processor has not been released but hype around Sandy Bridge E is higher than ever.
I sat down with the Sapphire motherboard PM to talk about the future of X79 and what unique things could be found on this particular motherboard.
The first thing you will notice is the extra large CPU socket and special mounting hardware. I didn't get to see a heatsink but it looks to mount directly to the motherboard using the threaded posts found around the socket.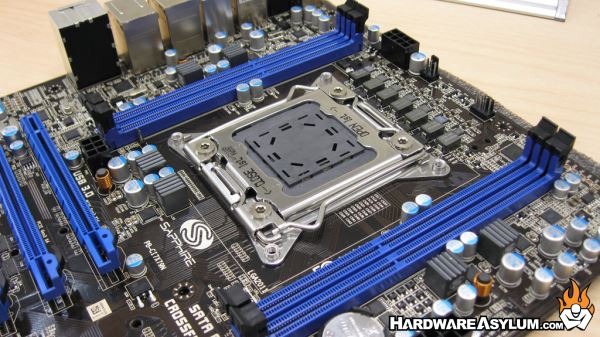 A new feature of Sandy Bridge E is quad channel memory and most boards we saw at the show have the memory slots oriented in a vertical 2x2 configuration. CPU power is located at the top while 6pin PCI Express power is located below and near the PCI Express slots.

Voltage test points and PCI Express disable jumpers are located in the upper corner of the motherboard, this is a great feature for overclocking and multi GPU configurations.
Right now you will find a total of six 16x PCI Express slots on the Pure Black X79. The layout isn't likely to change but you never know what might happen before they go to market. The layout supports triple card configurations in SLI and Crossfire assuming standard dual slot video card coolers.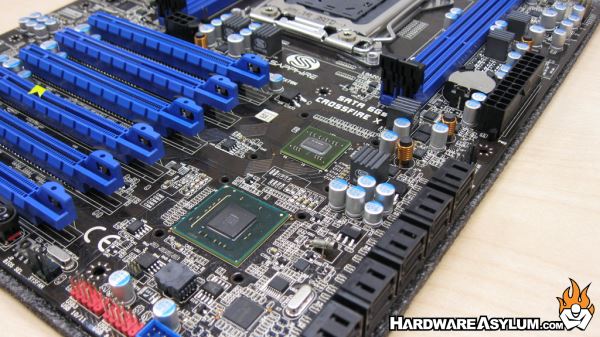 Again the majority of the PCI Express bandwidth is passing thru the NVidia NF200 bridge chip. As we know the bridge chip works by splitting up the PCI Express lanes and allowing them to be divided up better. In most cases the chip is used to support 3-way SLI but as more lanes are added to the system we will start to see builders get more creative.