Silverstone Taiwan Office Visit
Silverstone Taiwan Office Visit
Author:

Dennis Garcia
Published:
Tuesday, June 12, 2012

Silverstone Cooling
Some of the other things I looked at were the packaging designs for the new Silverstone aircoolers and SFX series 80 plus gold power supplies.

At Computex Silverstone was showing a prototype of their new self contained watercooling system. For obvious reasons the cooler was mostly hidden from view but you could see how everything went together.

The waterblock and pump assembly are constructed from high quality aluminum with a copper base. Physically the cooler has the same dimension as the competitor with a little more weight due to the lack of plastic pieces. Once this cooler reaches the final stages you can expect to see the Silverstone logo etched into the top of the waterblock. Personal we'd like to see a standard mounting system that might carry over to their air cooling line but that may not happen depending on the cooling configuration.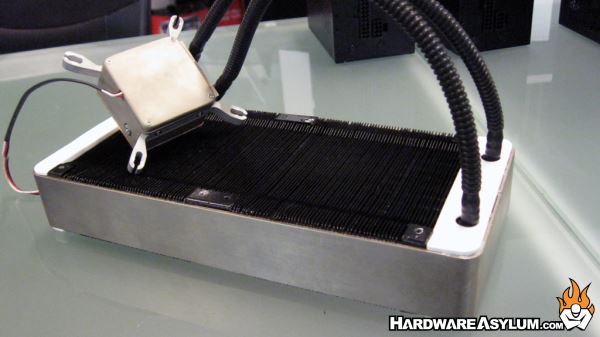 Given how small these watercoolers are you often rely on the radiator to be the deciding factor on how well the cooler will perform. For instance dual fan radiators have more surface area and thus can remove more heat. The Silverstone radiator design is quite large and designed to mimic a high quality air cooler. They are still testing this configuration so this design may change but it's nice to see some innovation in the field.

Conclusion
I would like to thank Tony for inviting me out to the Silverstone offices again. My first visit was right after they had moved and everything still had that new building smell. Now days things have expanded and there are new shelves everywhere.
Be sure to check the
Ninjalane facebook page
for photos of that visit.