Silverstone Taiwan Office Visit
Silverstone Taiwan Office Visit
Author:

Dennis Garcia
Published:
Tuesday, June 12, 2012

Introduction
For obvious reasons there are some things that companies don't show at Computex and there are photos I take that never make it into the daily coverage. If it for this reason that after show office visits are so beneficial. Plus you get to sit down with your contacts and talk about more than just work.

After Computex I stopped by the Silverstone offices in New Taipei City to talk more about the new Raven 4 chassis and their new cooling initiative. I was able to get some good photos of the new case at Computex but many people were confused as to how small the case really was.
Quoth the Raven
Well as you can imagine Silverstone has all of their chassis designs available in the main conference room so we lined them up to see just how the Raven series has changed over the years.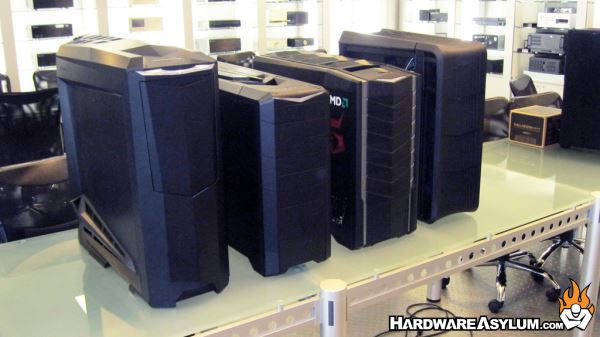 Raven 1 is on the left and is by far the tallest of the four and only slightly shorter than the Raven 2. Raven 2 is the longest case of the bunch and also the design that, so far, has sold the best. Raven 3 is a very compact chassis design that features the same 90 degree rotation as Raven 1 and 2 but is able to be considerably shorter and still have the same great cooling.
Raven 4 is the shortest case of the bunch and a few inches taller than the Raven 3. The reversed motherboard layout puts the processor at the bottom of the case and PSU at the top exactly like TJ08-E. In terms of cooling the Raven 4 comes with two 180mm cooling fans and, as I have been told, will have better airflow characteristics than any of the previous Raven designs. This is partially due to the new mesh fan filters but also a different fan profile.