Cooler Master HAF Stacker Casemod
Author:

Dennis Garcia
Published:
Monday, January 11, 2016

Introduction
Back in January 2015 Hardware Asylum hosted another custom case giveaway and one of the prizes was a Cooler Master HAF Stacker 935. This was a first generation Stacker and while it came with the smaller stackable chassis it really was just a remote container and didn't come with any front panel controls. Cooler master later revised the Stacker so you could install and operate a second system into the smaller case. In the process destroying the original vision and yet making it 100% more versatile.
This article will go over the modding process I used to create the Orange and Black stacker. Like before I used this old case to help promote Hardware Asylum and to introduce folks to what can be done with a computer case.
aka Modding.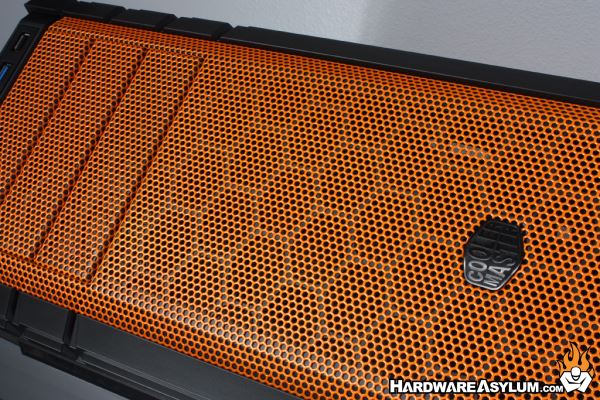 Cooler Master created the stacker as a prelude to their Maker/Master case movement designed to allow people the freedom to create a custom case to suit their needs. The HAF Stacker accomplished this by giving you a second case that can be added to the top or bottom of the case with an open area connecting the two together. Of course if the main chassis is all you needed then the smaller part could be used as a remote system or placed back in the box.
Personally I held on to the case for about a year waiting for this modding opportunity. You see the HAF Stacker has a lot of potential. Some modders took the approach to repaint the entire chassis and then build elaborate and lengthily watercooling loops using two of the smaller modules.
For my mod I took a simpler route and decided to play with contrasting colors.