EVGA Backplate Install for the GTX 780 Ti Classified
Author:

Dennis Garcia
Published:
Tuesday, April 15, 2014

Introduction
Video card manufactures have started to go to great lengths to make their products stand out. For EVGA they provide a wide variety of NVidia based graphics cards and match that with their popular ACX cooling solution as a way to provide improve performance. The ACX cooler is comprised of three main parts. The dual fans provide improved cooling and make very little noise under normal operation. Below the fans you'll find a large multi-heatpipe cooler for the GPU. The third component is the standalone heatspreader for the VRM and memory. This is a key component as it also reinforces the PCB to prevent it from bending under load.
Together the ACX system works extremely well but suffers from "Bare PCB Syndrome". You see the ACX cooler is all positioned on one side of the video card leaving the back of the card exposed and ugly. Likewise if you happen to remove your ACX cooler, say to do overclocking with LN2, the only way to cool the VRM is to modify the heatspreader or make something yourself. In doing so you may invertedly break the one thing keeping the PCB from flexing.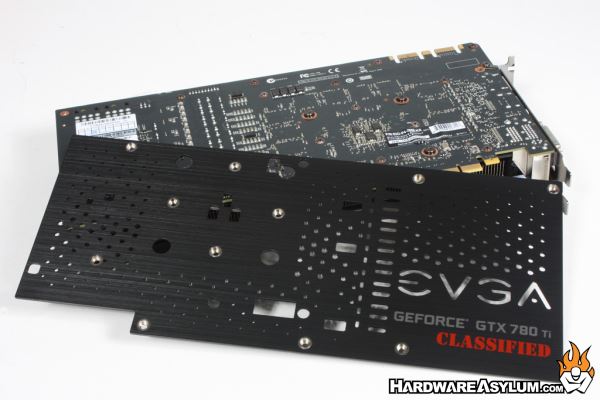 Lucky for everyone EVGA has a solution and is one that works on every custom EVGA video card and every modern reference design version they sell. This quick modding guide we will show you how to install a custom EVGA Backplate and talk about the reasons why you would do it.
For starters here is the victim my EVGA GTX 780 Ti Classified. This card was recently put under ice and ran quite well at 1650 core / 1900 mem. For the session I decided to mod the heatspreader and separate the VRM cooler from the memory. This would allow me to mount the GPU pot and still provide some cooling to the VRM.
Of course after the fun it was time to put the card back together and this is where the backplate comes in.