Case Cooling Upgrade with Noctua Fans
Author:

Darren McCain
Published:
Thursday, August 08, 2013

Old Faithfull
There she is, my baby. These days I like to think of this build as more of a hermit crab. An ever evolving PC build where older parts get replaced as newer parts arrive. The full specs can be found below but the Thermaltake Overseer RX-1 based build is shown here deep in the Ninjalane Labs. Recently I replaced my Coolink Corator DS with a Cooler Master Seidon 120 XL Watercooler but things didn't quite go as expected.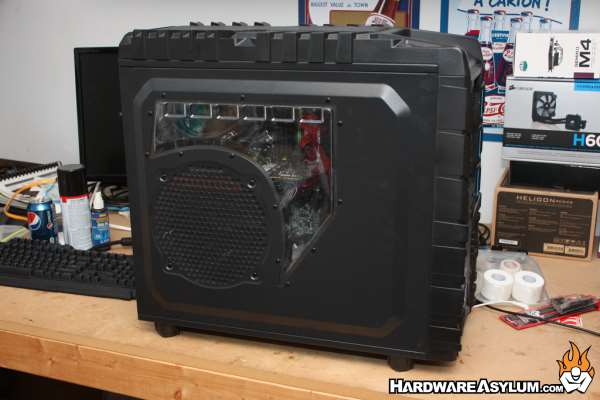 Here's the current Build
Thermaltake Overseer RX-1 Case
Gigabyte Sniper 3
Intel Core i7 3770K
16GB GSKill DDR3
EVGA GTX 770 Super Clocked w/ ACX
Crucial M4 256 GB SSD
Seagate 3.0 TB
LG BDXL Blu-Ray Burner
The thought was to reduce the sound signature a bit since my PC sits on my desk just a couple feet from me. During gaming sessions things can get a bit loud when the heat starts to build up. I have the Seidon from the recent review just begging for a home and this sounded like a great excuse to put things under the knife! The Corator and the Seidon are pretty similar in performance with the Seidon offering just .01 C/W advantage in our overclocking tests. The biggest advantage is the much acoustic noise level; 8.5 – 27.1 dB/A for the Corator and 19 – 40 dB/A for the Seidon.
Wait a minute, the Seidon is louder right?