Magitronic MiniTower Teardown Project
Author:

Dennis Garcia
Published:
Sunday, January 30, 2022

Introduction
When I set out to explore retro computing I considered the scope of my projects. For me I find that the 386 generation is as far back as you will want to go when dealing with the PC. The 286 generation is great but, the systems aren't much faster than the 8088 and you start to become limited in what you can do. Games are difficult to find, very few systems had a hard drive so you'll need to start stocking up on floppy disks.
With the 386 you have options. You can run 500MB hard drives, they support CDROM drives, quite a few sound card options, great memory support and if you are lucky you can get later generation motherboards that support math co-processors with options to upgrade to 486 instruction sets.
The system featured in this ongoing project is a build from Magitronic. This was a Taiwanese based hardware maker that was able to design and build just about everything that went into their systems. I could not find any specific details about this particular build but, it features a Magitonic 602 motherboard along with some other parts with a Magitronic sticker.
In this video I'm going to tear down the build and see what we are working with.
For context I picked this build up from eBay and was able to get it fired up after getting it. After that the case sat for a couple months while I started planning out what I wanted to do with it.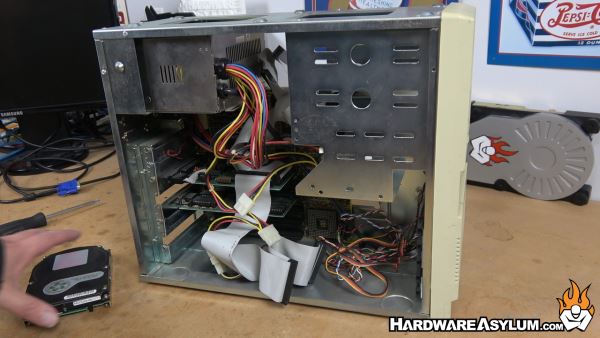 This chassis is very unique in that the metal appears to be zinc plated giving it a slightly shiny appearance and doesn't have the typical removable motherboard tray. Instead, you remove a panel at the bottom and will remove the motherboard out that way.
I doubt I will be using that much from this build. For instance, I am a fan of the Teac brand of 5.25" floppy drives and will be using matching Teac 3.5" drives. I also have plans to experiment with different storage options in this build so the two 3.5" IDE hard drives will likely be set aside.
Be sure to check out the video for more information on the build and please like and subscribe if you want to see more.