News
EVGA X299 Dark Overclocking Motherboard - First Look!
A close look at the EVGA X299 Dark
Computex 2017 is in full effect and while I was unable to attend this year there is still plenty to talk about and do some armchair analysis.
The first up is the new X299 Dark from EVGA. As many of you may have noticed the X299 is the chipset supporting the new generation of Skylake-X and Kaby Lake-X processors which promises more PCI Express lands, More Cores and generally more performance. The EVGA Dark has traditionally been a ultra high-end motherboard design that sits above the Classified with a unique spin on how Overclocking and Multi GPU configurations are handled.
I'm sure some more accurate information will be available as reports from Computex get released but, until this let's speculate.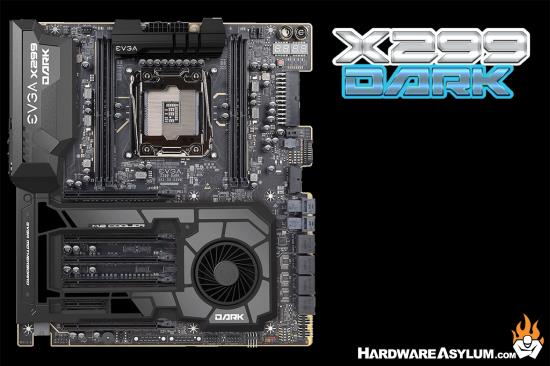 The first thing you will notice is the large MCP/Chipset cooler with a very large blower style fan. It is unlikely that the X299 chipset will require any cooling however M.2 drives typically do. By the looks of it exhaust air from the blower will pass over the M.2 drives to help regulate their temperature.
VRM is located at the top of the motherboard between the banks of DDR4 memory. This motherboard only comes with four memory slots and as we have learned from past motherboard designs, if you want high speed memory you have to drop the extra "crybaby" DIMM slots. As a result 4133Mhz is supported.
Along all of the sides you will notice every connector is set at 90 degrees with several of them "cut" into the motherboard making them slightly recessed. You'll notice dual debug LEDs, I suspect dual temperature montitors OR, maybe a selectable display where it would show everything from POST codes to CPU temp, CPU voltage, VRM temp and maybe even frequency. Once we see the X299 Dark in action that speculation should become clear.
I also see triple BIOS, PCI Express disable switches, dual U.2 connectors, onboard power and reset and two very strange connectors located under the last PCI Express slot.
Key Features
Form Factor – Optimized EATX for clean cable management
Supports x16 PCIe Graphics with all CPUs
Audio – Creative Sound Core3D Quad-Core Audio Processor + Optical
Highly-Efficient 14 Phase Digital VRM
12 Layer PCB Design
Bundled Bench Stand Plate
Dedicated M.2 Cooling
Onboard Power, Reset and Clear CMOS
EVGA E-LEET X Tuning Utility
Triple BIOS Support
M.2 NVMe PCI-E SSD Support
U.2 NVMe SSD Support
Intel® Optane™ Memory Ready
Switchable DC / PWM Fan Control
10-zone Temperature Monitor
Onboard Voltage Display
Specifications
Intel® X299 Express Chipset
SLI – Up to 4-Way
Memory Support – 4 DIMM Quad-Channel DDR4 4133MHz+ (Up to 64GB)
Ethernet – 2x Intel® Gigabit NIC
Saying I am excited to see this motherboard in action is an understatement!
Related Web URL: https://www.evga.com/articles/01114/evga-x299-seri...
comments powered by

Disqus