News
Aorus B450 Series Motherboards
It's all business baby!
One thing that was communicated to me during Computex is that Gigabyte is moving away from their Gaming segments. This is a result of the Aorus branding and an attempt to making their products more "edgy"
Edgy is something I have a hard time with, I know what it is, I can recognize when it happens and generally I enjoy it however I have a hard time "being edgy" and keeping my sanity. But... I try.

Gigabyte on the other hand is really going for the gold with names like "Xtreme Master", "Ultra Pro" and "Elite". I hope these names pay off and it would seem they are all starting with the Aorus B450 series motherboards.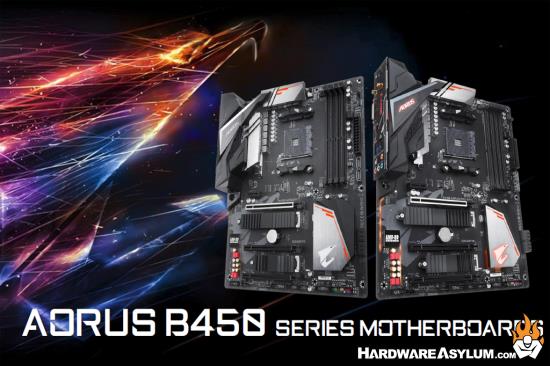 The B series chipsets have always been a down market chipset supporting many of the high end features with a few things removed. For instance a reduction on PCI Express lane counts leading to a restriction in video card support. You still get the same number of USB ports and they appear to support Precision Boost Overdrive which means more power from a business/gaming ready machine.
Aorus B450 series motherboards will come with many other features including onboard wifi, high-end audio capacitors, NVMe heat spreaders, onboard RGB LEDs, native USB 3.1 and a kickass 8+3 digital VRM to not only lower operating temperatures but deliver more consistent power very efficiently.
Stay tuned for more information as it becomes available and be sure to look for these boards and the higher end X series to be released soon as a perfect complement to any Ryzen 2 based build.
comments powered by

Disqus