News
Unlock the Full Potential of the New ROG Maximus XII Formula With EK VRM Bridge
In the column of "cash grab" and "most worthless part ever" we have this.
What we have is a distro block that connects the CrossChill VRM cooler found on the ASUS ROG Maximus XII Formula (Ideally already designed and sourced from EK) to an EK waterblock that you place on the CPU.
So, instead of connecting a pipe from your CrossChill to the CPU block you place this distro plate over the whole thing covering the EK block you just bought and the sleek VRM cooler you paid EXTRA for. Not to mention the Maximus XII Formula is already a $500.00 USD motherboard so I have to ask "why?"
----- SNIP -----
EK, the leading liquid cooling gear manufacturer, is ready to support the newly-released ROG Maximus XII Formula motherboard with a unique, patent-pending liquid distribution VRM Bridge. The EK-Quantum Momentum VRM Bridge ROG Maximus XII Formula D-RGB is a purpose-engineered connection piece that bridges the existing integrated CrossChill EK III VRM cooling and the CPU water block into a single entity. The ROG Maximus XII Formula is the carrier of the iconic Maximus motherboard series, while the EK-developed VRM Bridge solution will help bring out its full potential.
The EK-Quantum Momentum VRM Bridge
The EK-Quantum Momentum VRM Bridge is the only off-the-shelf solution that will bridge multiple liquid cooling components with a unique mounting mechanism. It is specially made for the ROG Maximus XII Formula, and upgrading from any previous motherboard will be easy since you'll be able to reuse any of the existing Intel-socket-compatible EK-Quantum Velocity CPU water blocks.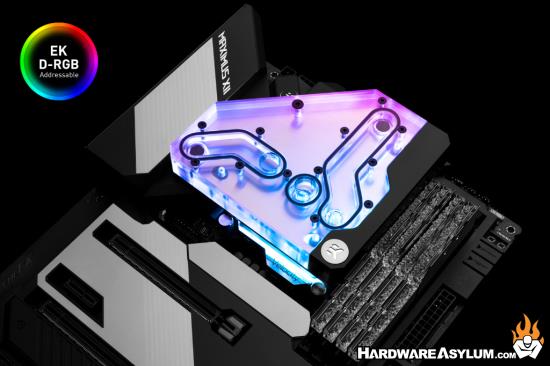 EK's RnD team spent countless hours developing and perfecting this VRM Bridge solution. And since diamonds are made under pressure, after several iterations, the result was a second to none diamond-shaped product that impeccably integrates with aesthetics of the ROG Maximus XII Formula motherboard.
----- SNIP -----
Now, I will give them this. the VRM bridge does look cool and I'm sure some idiots will be tripping over themselves to get one.
Related Web URL: https://www.ekwb.com/news/unlock-the-full-potentia...
comments powered by

Disqus