News
Biostar Silver Series Motherboards for Intel Core i7 14700K
We recently launched Episode 153 of the Hardware Asylum Podcast and in it we talk about how stupid motherboard designs have become due to the absence of expansion card availability. Despite this motherboard makers are still selling full sized motherboards which is not only wasteful but has been fully enabled by consumers.
The underlying message is that we only "need" a full sized ATX motherboard if we are going to use the available expansion slots, if not we can go with something smaller. Well, how about Micro ATX?!?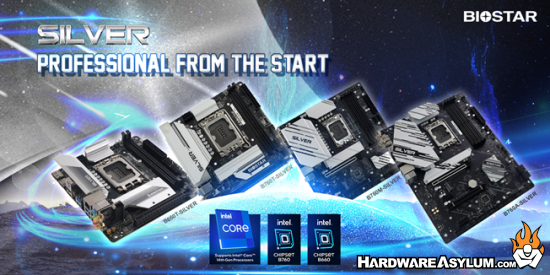 Leave it to Biostar to be ahead of the curve and actually use their brains.
November 10th, 2023, TAIPEI, TAIWAN – BIOSTAR, a leading manufacturer of motherboards, graphics cards, and storage devices, introduces SILVER series motherboards that synergize well with the latest Intel Core i7-14700K Raptor Lake-S Refresh processor.



Intel's Raptor Lake-S Refresh, the Intel Core i7-14700K processor emerges as a powerhouse in the computing landscape, surpassing its predecessor with an impressive array of 20 cores and 28 threads. This substantial increase from the 16 cores and 24 threads of the i7-13700K translates into a notable uptick in multitasking prowess and efficiency in managing complex tasks.



Precision-engineered to the highest standards of technological excellence,

BIOSTAR's B760A-SILVER, B760M-SILVER, B760T-SILVER, and B660T-SILVER motherboards stands as the quintessential companions to the Intel Core i7-14700K processor. These motherboards exemplify BIOSTAR's unwavering commitment to cutting-edge technology, ensuring each motherboard is a perfect match for the i7-14700K's powerhouse of performance. Crafted for those who demand reliability and peak performance, the synergy between BIOSTAR's meticulous design and the robust capabilities of the Intel i7-14700K processor facilitates a computing experience that is as seamless as it is powerful. Whether for intensive gaming, professional workloads, or content creation, this pairing guarantees a platform that meets the rigors of modern computing with unmatched precision and prowess.
This motherboard release offers up four new designs built on the B760 chipset. This chipset is not intended for performance applications but is a down market alternative with the intention that users will also use a down market processor such as the Core i7 14700k. One board is full ATX while the other three are enjoying the Micro ATX and Mini ITX form factors.
Bravo!!