Cooler Master N200 Case Review
Author:

Dennis Garcia
Published:
Tuesday, May 14, 2013

Introduction
In a world where you can get some of the most advanced computer cases it is nice to see that companies are still making a simple chassis with support for the latest modern conveniences. For this review we will be breaking our enthusiast mold and getting back to our modding roots with a case that can be excellent off the shelf and, even better in the hands of a skilled modder. The Cooler Master N200 is a simple mainstream case designed to be compact yet very flexible.

Now before you cringe at the sight of a mainstream chassis you should know that this tiny gem sports some really cool features like allowances for watercooling, MicroATX motherboards, seven storage drives and long video cards like the AMD Radeon HD 7990.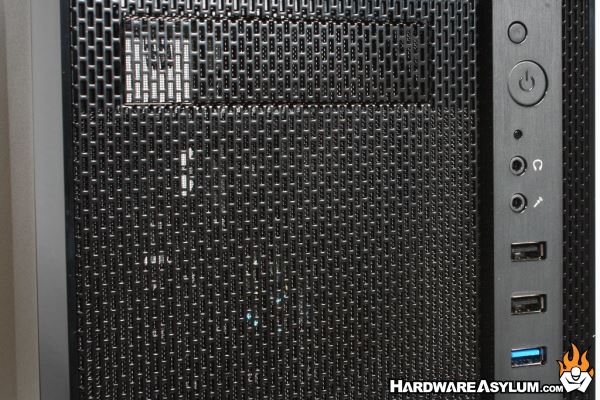 Specifications
Available Color Midnight Black
Materials Plastic bezel with mesh, steel case body
Dimension 202 x 378 x 445mm / 7.95 x 14.9 x 17.52 inch (W x H x D)
Net Weight 4.3 kg / 9.5 lbs
M/B Type microATX, Mini-ITX
5.25" Drive Bays 1 (Max. length of 5.25" device: 170mm / 6.7 inch)
3.5" Drive Bays 3
2.5" Drive Bays 4
I/O Panel N200: USB 3.0 x 1, USB 2.0 x 2, Audio in and out / N200 Advanced: USB 3.0 x 2, USB 2.0 x 1, Audio in and out
Expansion Slots 4
Cooling System Front: 120mm black fan x 2 (one XtraFlo is pre-installed)
Rear:120mm black fan x 1 (XtraFlo pre-installed)
Side: 120mm fan x 1 (optional)
Top: 120mm x 15mm fan x 1 (optional)
Power Supply Type ATX PS2 (Max. length: 180mm / 7.1 inch)
CPU cooler height: w/o 120mm x 25mm side fan: 160mm / 6.3inch / with 120mm x 25mm side fan: 140mm / 5.5inch
Graphics card length: 355mm / 14 inch

Modding is still a big part of building a computer either it be in component selection or pimping up the chassis the personalization of your computer is a large part of ownership. That isn't to say you have to modify every case you buy but, every chassis should offer those opportunities and that his how we do our reviews.