Cooler Master Scout 2 Advanced Case Review
Author:

Dennis Garcia
Published:
Friday, March 08, 2013

Introduction
There are several things to look for when choosing a gaming chassis for your next build. First, the case must look good, there is nothing worse than showing up at a LAN event only to have the ugliest case there. Second, the case must be compact enough to travel yet large enough to hold all your gear. Third is cooling, a proper gaming system is going to produce some heat and that case must be able to cool your gear. Finally, who cares about size, if you can't transport your case, there is no sense in attending a LAN event. For this, a handle is a must.
Carrying handles aren't a new thing. In the early days case modders would attach their own to make moving their system around a little easier. This sort of thing was often associated with LAN gaming and the trend just kinda stuck.
In this review we will be looking at a brand new gaming chassis from Cooler Master called the Scout 2 Advanced. Now before you say anything the Scout 2 isn't a new thing, in fact we reviewed
the regular Scout 2
over six months ago and the
original Storm Scout
in 2009.
So, what has changed?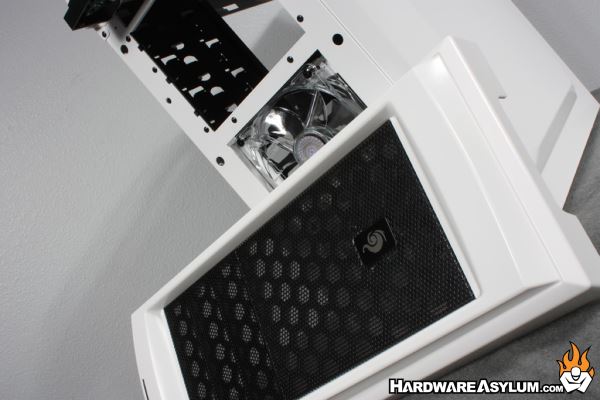 Simply put, not much. The specifications are almost identical between the two Scout 2 designs with a few minor changes like the addition of two clear LED fans and a new paint color, Ghost White.
Specifications
Model SGC-2100-KWN3 (Midnight Black) / SGC-2100-WWN1 (Ghost White)
Available Color Midnight Black (SGC-2100-KWN3) - black interior / Ghost White (SGC-2100-KWN1) - black interior
Material Appearance: Polymer, Coated Steel Mesh and Body
Dimension 230 x 513 x 517.5mm / 9.1 x 20.2 x 20.5 inch
Weight 8.56 kg / 18.87 lbs
M/B Type Micro-ATX, ATX
5.25" Drive Bay 3 (exposed)
3.5" Drive Bay 7 (hidden)
2.5" Drive Bay 4 (converted from 3.5" drive bays)
I/O Panel USB 3.0 x 2 (int.), USB 2.0 x 2, Mic x 1, Audio x 1 (supports AC97 / HD Audio)
Expansion Slots 7
Cooling System Top: 120mm fan x 2 (optional)
Front: SGC-2100-KWN3 (Midnight Black) - 120mm red LED fan x 2 (with LED on/off function) / SGC-2100-WWN1 (Ghost White) - 120mm white LED fan x 2 (with LED on/off function)
Rear: 120mm black fan x 1
Bottom: 120mm fan x 1 (optional)
Side: 120mm fan x 2 (optional)
HDD cage: 120mm fan x 1 (optional)
Power Supply Standard ATX PS2 (optional)
Maximum Compatibility VGA card length: 287mm / 11.3 inch (with HDD cage); 399mm / 15.7 inch (without HDD cage)
CPU cooler height: 162mm / 6.4 inch

Even though the majority of cases you can buy come with an immense set of features the modding and personalization of a chassis is still a large part of ownership. That isn't to say you have to modify every case you buy but, every chassis should offer those opportunities and that his how we do our reviews.