Cooler Master Storm Trooper Gaming Case Review
Author:

Dennis Garcia
Published:
Tuesday, September 27, 2011

Introduction
The anatomy of a modern gaming chassis has morphed over the years starting from the simple mid to full tower cases common in late 90's to ornate high flow designs that we see today. While the function and capacity of these cases has changed, the distinction that indicates a gaming case is usually decided by what you can fit inside. Modern designs are configured to handle multiple graphics cards and typically feature a variety of fans to keep excess heat under control.

Gaming cases from the past were usually heavily modded to improve cooling and style. Modding opportunities are something we still look for in any high end case and can consist of anything from tweaking the airflow, adding a window or simply changing the color. We feel the modding aspect is key for personalizing a chassis and showing off whatever high-end gear you happen to be running.

In this review we will be looking at a new case from the Cooler Master Storm series called the Trooper. This is a full tower chassis designed for enthusiast gaming and is quite suited for that role based on outward appearance and high quality carrying handle.

External drive bays follow the "stacker" formula and consist of nine external 5.25" drive bays with a special accessory box location behind the logo panel at the bottom. Both of the side panels feature ample venting and some embossing to both increase internal volume and stiffen the side panel.

While both sides of the case feature similar venting options the main side panel comes with mounting points for two 120mm fans that can blow in or out depending on your mood.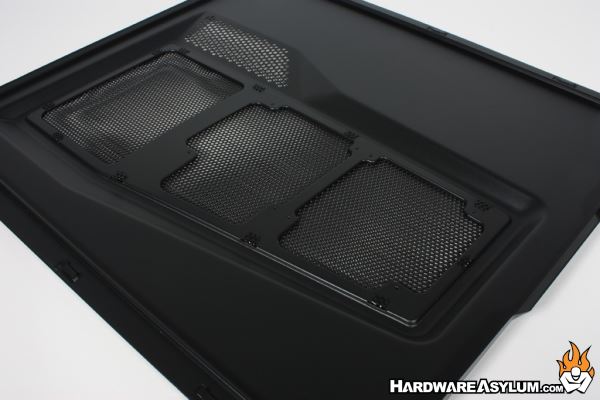 You will notice there is no side window in this case and is something that we fully approve of. It not only increases the personalization aspect of the CM Trooper but also gives you the option of hiding the specifics of your gear.