Phanteks Eclipse P400 Tempered Glass Edition Case Review
Author:

Dennis Garcia
Published:
Tuesday, April 18, 2017

Case Layout and Features
The Phanteks Eclipse P400 is well sized at 8.3" W x 18.3" H x 18.5" D making the case slightly smaller than your standard mid-tower chassis. P400 has no external drive bays but does feature two USB 3.0 ports and analog audio connections at the top of the case. You will also notice that the front of the case features a very ornate bezel that hides a versatile cooling panel that can support 120mm/140mm fans and radiators up to 360 and 280.
Turning the case around you will notice that the power supply is located at the bottom of the case with a very large opening for the 120mm/140mm rear fan position. The slots around the outside allow you to position the fan vertically which can be helpful when running a top mounted radiator and rear fan.
I also like the alternating color pattern to the expansion slot covers. It is pretty rare that you would use every slot in a build giving you an opportunity keep or remove a red accent from the back of the case.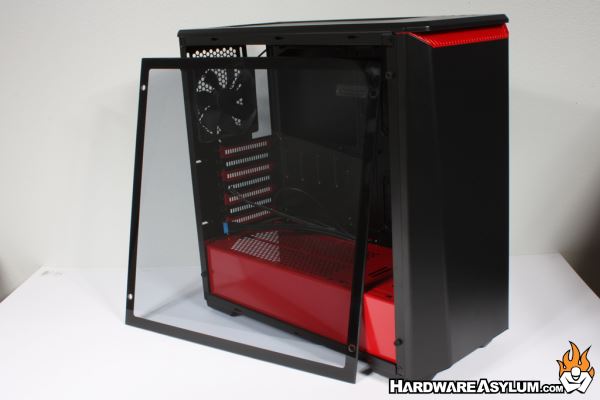 The highlight feature of the Phanteks Eclipse P400 Tempered Glass Edition is the tempered glass side panel which gives you a fully unobstructed view inside the case. The panel is made from heavy tempered glass and is shaded with a very light smoke for added style. A black coating has been applied to the edges where they touch the case to help frame the panel better.
The power button is located on the top panel and would be clearly visible when the case is positioned on the ground. From the top of the case the USB ports and audio connections are located to the right while the power LEDs are located just above the top vent in the front bezel.
You will find seven expansion slots on the P400 and they are positioned with the screws outside of the main chassis. I've never been a fan of this particular design for holding expansion cards and while it might be cheaper from a design standpoint it just looks ugly in my opinion.