Phanteks Enthoo Pro Tempered Glass Edition Review
Author:

Darren McCain
Published:
Friday, April 06, 2018
Introduction
Phanteks has made quite a splash here in the Asylum with their high end case offerings like the Enthoo EVOLV and their budget friendly Eclipse P300 and both featuring tempered glass windows. But up until recently their popular Enthoo Pro models were only available with Acrylic windows. Today we will be looking at the Enthoo Pro Tempered Glass Edition.
The Enthoo series was Phanteks first line of computer cases with a focus on water cooling features not available from most other manufacturers. Will tempered glass take things to the next level?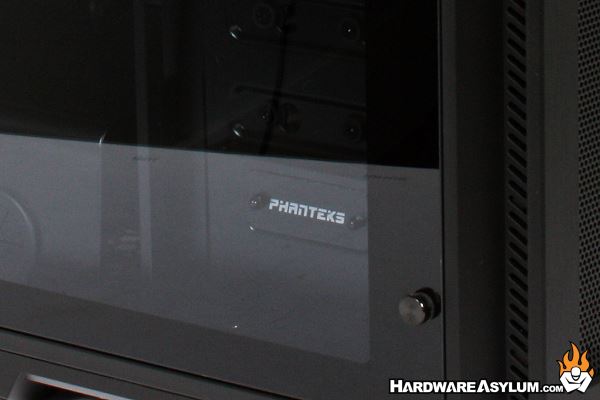 The Enthoo Pro Tempered Glass Edition is a larger 235 mm x 535 mm x 550 mm (9.25 in x 21.1 in x 21.7 in) mid tower design offered in a beautiful satin black combination of ABS and steel that looks remarkably like brushed aluminum. Although the case is wider than most of the competitors, the extra space provides ample room for components and cable management.
If black on black is not your thing, you can also get the Special Edition with a contrasting white interior and slightly upgraded fan options for just a little bit more.
Let's take a closer look at the specifications:
Specifications
Model NO: PH-ES614PTG_BK
UPC Code: 8865233001288
Dimension:235 mm x 535 mm x 550 mm (W x H x D) / 9.25 in x 21.1 in x 21.7 in
Form Factor: Full Tower Chassis
Material(s): ABS, Steel, Tempered Glass
Motherboard Support: E-ATX , ATX, Micro ATX, Mini ITX, SSI EEB
Front I/O: 2x USB 3.0, 2x USB 2.0, Mic, Headphone, Reset, LED Control
Side Window: Yes, Tempered Glass
Expansion Bays: 3x 5.25" ODD, 4x Dedicated 2.5", 6 3.5/2.5" bays, 8x Expansion slots
Weight: 15 KG
Warranty: 5 years
Phanteks was founded in 2007 with two goals in mind, "High-end quality and innovative products in thermal solutions." Beginning with an emphasis on the overclocking community the Phanteks Design Team is passionate about developing new and better innovative cooling solutions. Today Phanteks not only makes award winning water-cooling products. They also make an expanding line of cases and cooling accessories.
Modding is still a big part of building a computer either it be in component selection or pimping up the chassis the personalization of your computer is a large part of ownership. Phanteks has a reputation when it comes to cooling and with the word Pro on the name you should expect a bit more right out of the box. Modding or simply shooting for a custom cooling loop should be a great match. That isn't to say you have to modify every case you buy but, every chassis should offer those opportunities and that his how we do our reviews.
Case Layout and Features
You definitely can't miss the beautiful tinted glass that makes up the entire left side of the Enthoo Pro but this case is more than a one trick pony. The front panel supports up to three 5.25 external drives and is offset about half an inch to help the front fans breathe. A 5.25 x 9.5 inch fan grill backed by a removable dust guard completes the look while most controls are kept hidden to keep the overall look clean.
The back is also well vented with eight expansion slots below an included 140mm Phanteks Premium case fan. The venting above the expansion slots looks like it could easily be modded to support a vertical video card bracket. Perhaps it will make future versions?
At the top of the case you'll find a 6 x 16 magnetic fan cover power button and a small indicator light are visible. I/O ports are behind a simple door that could easily be mistaken for another 5.25" drive bay. This panel includes: 2x USB 3.0, 2x USB 2.0, Mic, Headphone, reset button and a LED control toggle. More on that light control in a minute.
Even the bottom was designed with airflow in mind. Six sturdy feet hold the Enthoo Pro a good 3/4 inch off the ground. The bottom surface will hold an additional 2x 120mm or a single 140mm fan nicely protected by another removable dust filter. A third dust filter protects the bottom power supply intake.
As for the window, it is held in place by a set of matching thumb screws and two solid looking metal hinges. The thumb screws are pretty short threaded but feel firm when tightened. The door does swing back 180 degrees and can be removed if you felt the need. There is plenty of room to build without the door getting in the way.
Another pleasant surprise was the extent of the accessories included with the Enthoo Pro. Contents include: A full color user's manual, an optional reservoir mount, extra cable ties, and a plastic tool box for the screws and parts. This case will also fit in the cool little Phanteks Tool Kit sold separately.
Case Layout and Features Continued
Of course with a name like Phanteks you know there is going to be an emphasis on cooling and the interior layout does not disappoint. The interior is built to hide components and cabling while maximizing airflow.
The front is dominated by the drive cage with two SSD drive mounts on the front surface. This design puts those fancy SSDs right up to the glass and hides everything else. Both SSD brackets can be removed if not used. Even with the full frame the Enthoo Pro supports video cards up to 13.6 inches (347mm).
A full shroud covers the power supply and must be removed for installation. I do like the look of these basements and they do a great job keeping any heat from bleeding into the system. This is one area where I would seriously consider the white Special Edition a contender.
In total there is support for the external 5.25" bays we saw earlier, 6x combination 3.5"/2.5" drive bays and 4x dedicated 2.5" bays including the two up front. That should support more than most will ever use.
The drives mount in tooless plastic trays and even the front facing SSD mounts are padded to reduce vibration.
The back side of the case is where all the dirty laundry hides. These pictures show the case right out of the box. Cable management looks great! There are multiple Velcro ties already in place and lots of spots to mount more.
The two other SSD mounts are located on the back side and use the same brackets. Additional brackets can be purchased from Phanteks direct in a couple of styles.
Case Cooling and Conclusion
One of the more exciting trends in custom PCs is the rise of water-cooling options making custom water loops both easier and more affordable than ever. Phanteks has been a huge part of this trend and the Enthoo Pro is loaded with cooling options.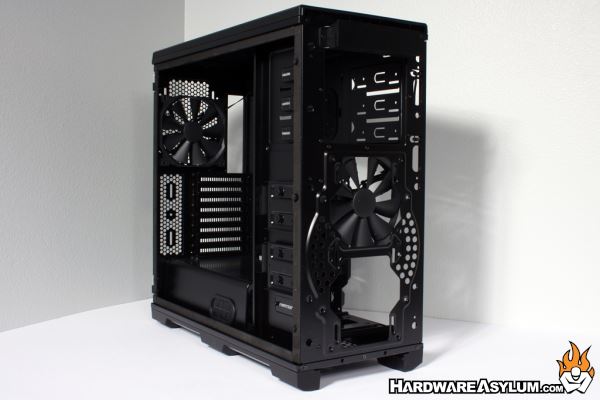 Out of the box, the Enthoo Pro comes with a relatively Spartan set of black Phanteks Premium 140mm fans. Normally I might fault a case manufacturer for not jumping up to more fans or adding a splash of RGB but more and more builders are choosing their own cooling. I get it but, make sure to account for more cooling in your case budget if you are running a higher end build.
The Enthoo Pro has quite a bit of air cooling options available although some larger radiator setups may require removing the HDD cage. This case is begging for a good dual loop setup!
Fan options:
Front: 2x 120mm or 2x 140mm or 1x 200mm
Top: 3x 120mm or 3x 140mm or 1x 200mm
Rear: 1x 120mm or 1x 140mm
Bottom: 2x 120mm or 1x 140mm
Drive cage: 2x 120mm
Liquid Cooling Options:
Front: up to 120 x 240 or a single 140mm
Top: Up to 120 x 360 or 140 x 420mm
Back: 120mm
Bottom: up to 120mm x 240 or single 140mm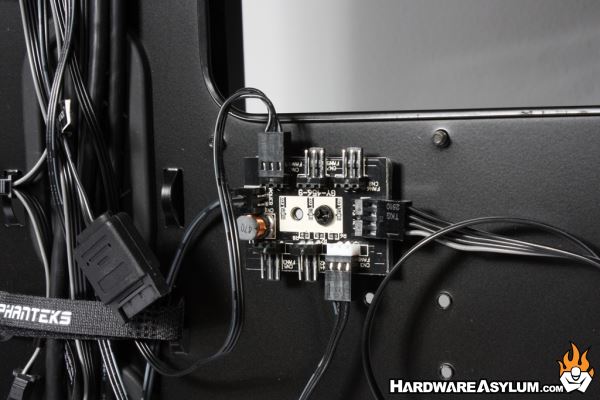 One of the more interesting inclusions is the front LED control. Phanteks multicolor LED strips and Halo fan frames can be purchased directly from Phanteks and allow for light control via 10 presets. Connectivity is designed for Phanteks RGB products with more to come I am sure.
Phanteks also provides a 6 fan PWM controller shown here. It may not be pretty but it will connect directly to your 4 pin CPU connector (or other PWM enabled connectors) for full PWM signal modulation. Fan control is also supported via traditional 4 pin connectors using RPM modulation by voltage.
Motherboard support for E-ATX, ATX, Micro ATX, Mini ATX and SSI EEB boards is provided. We loaded up a matching MSI X299 Gaming Pro Carbon Motherboard and found plenty of room for cabling and cooling up to a 7.6 inch (193mm) heatsink. There is something classy about a black on black motherboard in an all-black case.
There is a lot to like about the Phanteks Enthoo Pro Tempered Glass Edition case. Phanteks has taken an award winning design and refreshed it with a beautiful large tempered glass window. The case is not overly complicated and supports nearly every custom cooling configuration you might want to throw at it with ease. In practice the Enthoo Pro is feature rich and looks great.
With the regular Enthoo Pro and the Special Edition you have options as well. It's simply hard to find another case this loaded anywhere near this price point. Looking at a serious air cooled build or looking to add water cooling options without breaking the bank? Phanteks Enthoo Pro Tempered Glass Edition has you covered.
Good Things
Tempered Glass Side Panel
Class leading cooling options
Open Interior Design
PWM Fan controller
RGB LED Controller
Bad Things
Only 2x 140mm fans stock
RGB control limited
PSU shroud can be finicky to remove
Hardware Asylum Rating
Phanteks Enthoo Pro Tempered Glass Edition Review
Recommend
https://www.hardwareasylum.com