Phanteks Enthoo EVOLV ATX Tempered Glass Edition Case Review
Author:

Dennis Garcia
Published:
Friday, April 29, 2016

Introduction
The Enthusiast PC Hardware world is full of niche areas that often get glossed over and while it is easy to say "this is an enthusiast grade motherboard" or "that a certain video card is good for overclocking" the lesser known segments such as case modding and watercooling are a little different. Choosing a case can have a similar effect given the plethora of factors that come into play like overall style, motherboard support, size, available pre-mods and personal preference. This is often compounded by the near endless supply of worthless cases dominating the low-end market followed by high-end cases that specialize in "that one thing" which can be both helpful and annoying.
Of course if you are a cooling enthusiast you'll be adding another requirement to your list, support for watercooling gear.
In this review we will be looking at the Phanteks Enthoo EVOLV ATX Tempered Glass Edition. This is a Mid-Tower case that is virtually identical to the original with the same great style and tempered glass side panels. Inside the case features a conservative layout that can be customized to match your needs. If that wasn't enough the case also features a new RGB lighting control with 10 different colors, a breathing effect and color cycling mode that will move between all 10 colors automatically. The LED color control is also transferable to Phanteks LED lighting strips adding more style and versatility to your builds..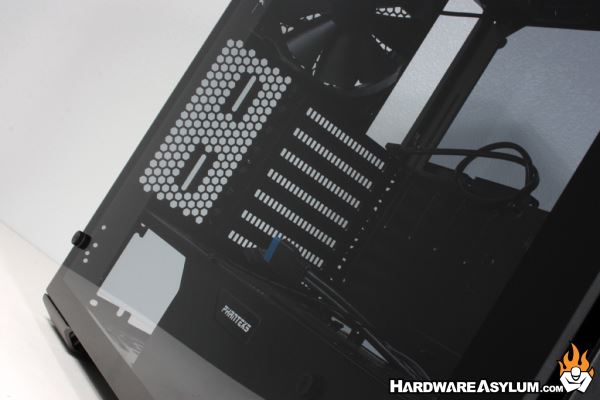 Specifications
Dimension 235 mm x 495 mm x 510 mm (W x H x D) / 9.25 in x 19.5 in x 20.1 in
Form Factor Midtower Chassis
Material(s) Aluminum (3mm) Steel chassis
Motherboard Support E-ATX up to 264mm wide, ATX, Micro ATX, Mini ITX
Front I/O 2x USB 3.0 / Mic / Headphone
Side Window Yes (Both Sides)
Expansion slots 7
Internal 3.5" 8x (5 included)
Internal 2.5" 3x (2x included)
Cooling
- 1x 120mm / 1x 140mm
- 3x 120mm / 2x 140mm
- 3x 120mm / 2x 140mm
Liquid Cooling 120mm up to 360mm Radiator
Clearance
- Graphic card 300 mm (11.8 in)
- CPU cooler 194 mm (7.6 in)
- Cable management 35 mm (1.38 in)
Net Weight 10.2 kg (22 lbs)
Gross Weight 11.9 kg (24.3 lbs)
Warranty 5 Years Limited