In Win 901 Mini-ITX Case Review
Author:

Darren McCain
Published:
Monday, April 14, 2014

Introduction
It's hard not to notice the trend towards smaller PC builds. Nowhere was this trend more pronounced than at CES this year. Everyone had a new chassis in the increasingly popular mini-ITX form factor. One particular case stood out to me, the In Win 901 Mini-ITX case. The gorgeous glass and Aluminum design had me wondering what was going on under the hood!
Wonder no longer! The 901 is the latest in In Win's 900 Series. The series features a clean one piece aluminum shell flanked by two tinted glass panels.
In Win's promise: "Precision Craftsmanship with no Compromise."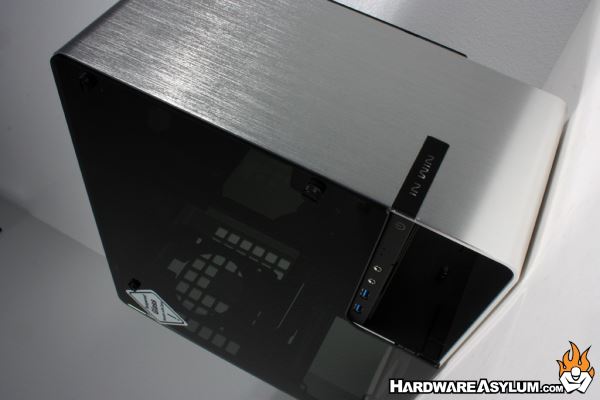 I have to admit I have a soft spot for multi-windowed cases dating back to the Kingwin KT-436-BK-WM that I still own today. The 901 features stunning black tinted glass side panels framing a one piece brushed Aluminum one piece frame. Let's take a closer look at the specifications.
Specifications
Material:4mm / 1.6mm Aluminum / Tempered Glass
External Drive Bay: Slim ODD x 1 (Includes SATA EZ-Swap Module)
Internal Drive Bays: 3.5"/2.5" x 2 (Includes SATA EZ-Swap Module) / 2.5" x 2
MB Form Factor: Mini-ITX
Power Supply: N/A
I/O Port: USB 3.0 x 2, HD Audio
Expansion Slots: Full Height PCI-E Slot x 2 (Up to 300mm)
Supported Thermal Solution: 90mm Rear Fan x 1 / 120mm Bottom Fan x 1 / 120mm Liquid Cooling Radiator
CPU heatsink up to 130mm
Dimensions (H x W x D): 13.8 x 6.8 x 15.7" / (350 x 173 x 400mm)
Inside the box there is a nice Ziploc able bag containing the accessories, a nice fold out user's manual in full color and multiple cable management extras. Accessories are all individually bagged and clearly labeled if you can translate the part numbers to the manual. Fortunately the extra parts are mostly self-explanatory and include extras for common wear parts like the rubber window brackets. The 901 even comes with a cleaning cloth to keep those beautiful windows fingerprint free.
Usually we like to offer our perspectives on customization and modding throughout the case review. The trend towards Mini-ITX and other SFF cases makes these cases more self-contained. Still there are opportunities for customization both from the factory and for those of us not content with the factory configurations. That isn't to say you have to modify every case you buy but, every chassis should offer those opportunities and that his how we do our reviews.