Lian Li PC-K5WX Ebonsteel Case Review
Author:

Dennis Garcia
Published:
Wednesday, October 12, 2016

Introduction
Lian Li is one of the largest manufacturers of aluminum computer cases in the world and have used their expertise in aluminum manufacturing to create some of the only cases you can buy made entirely from aluminum. The thing is, aluminum is quite expensive and while it truly is a badge of honor to own an aluminum computer chassis they are difficult to obtain due to their cost and retailer refusal to stock them.
In this review I'll be looking at the Lian Li Ebonsteel PC-K5WX chassis. As the name suggests this is a steel based chassis design that follows a more traditional path. Their intent is to leverage the Lian Li name and offer a mainstream chassis at a much lower price point. The target market isn't so much PC Enthusiasts but PC Builders, System Intergrators and really anyone looking for an inexpensive chassis.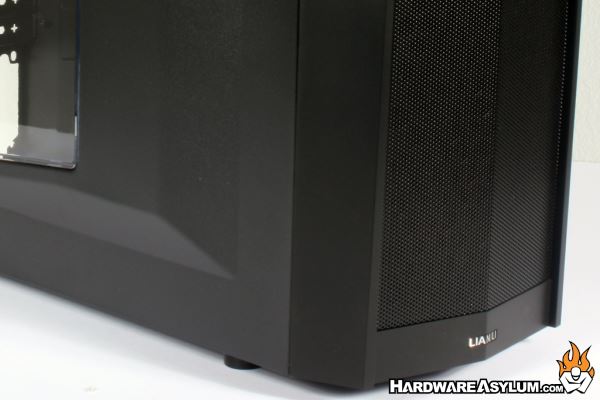 This is not the first time that Lian Li has experimented with steel based computer cases as there was a sub brand created several years ago called LanCool that produced Lian Li inspired designs using steel to keep costs down. The cases were quite good and gave gamers and PC modders a stronger base to build their systems from. Sadly, they lacked the feeling of a pure Lian Li case and over the years the LanCool designs got a little crazy to compete with other manufacturers in the space and eventually stopped production.
Ebonsteel is a different take on this attempt and instead of creating a sub brand for a niche market they are simply offering up a different product for a much larger market.
The Lian Li Ebonsteel PC-K5WX features a very traditional and clean design that features a variety of angles that make up the various panels.
Spinning the case around you'll see that the side panel embossing has been replicated and you'll get a look at the expansion slot layout, 120mm exhaust fan and position of the power supply. There is no wasted space in this chassis and even comes with a couple of pass-through ports for cables and external watercooling units.
Specifications
Model PC-K5X / WX
Case Type Mid Tower Chassis
Dimensions (W)205mm / (H)450mm / (D)500mm
Color Black
Side Panel SECC / PC-K5WX with window
Body Material SECC
Net Weight 4.9kg
5.25" drive bay (External) 2
3.5" drive bay (External) None
HDD bay 3.5"/2.5" HDD x4
Expansion Slot 7
M/B Type ATX / Micro-ATX
System Fan (Front) 120mm Fan x2 / LED 120mm Fan x2 (PC-K5WX)
System Fan (Top) 120mm Fan x2 (Optional)
System Fan (Rear) 120mm Fan x1
Space of Radiator 120mm x240mm x60mm
I/O Ports USB3.0 x1 / USB2.0 x2 / HD Audio
Maximum Compatibility VGA Card length: 250mm(400mm) / PSU length: 250mm / CPU cooler height:160mm
PSU Type ATX PSU (Optional)