Rosewill WolfAlloy Review Case Review
Author:

Darren McCain
Published:
Wednesday, August 19, 2015

Case Layout and Features Continued
With the side panel removed we get our first look at the interior layout. I have to admit I had hoped for a bit of orange on the inside but everything looks clean on black right?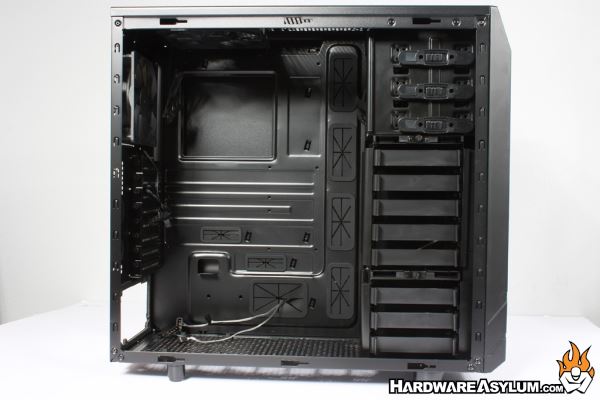 A set of three drive cages across the front support a total of 11 drives. Three 5.25" drives can be mounted in the top (two external) but the top bay is partially blocked by the front cables.
The 8 hard drive trays are setup to mount both full size drives and SSDs. Both drive cages are removable and removing the middle cage is a great option for improving cooling and compatibility.
Mounting for Micro ATX, ATX or Mini-ITX motherboards provides versatility and several rubber lined cable runs are strategically placed for each option.
Front cooling duties are handled by two matching 120mm fans lit by orange LEDs. Both fans have mesh dust guards that can be removed and washed. I am a bit nervous about how much air the front vents allow in but additional air is channeled in from a slot in the bottom. I would definitely look at a cut or two if more air flow is required.
Additional fan duties are handled by a 120mm rear exhaust fan and a 140mm top fan. A third 120/140mm fan location allows for a top mounted 240mm radiator. All three fan locations will take either a 120mm or a 140mm fan.
The WolfAlloy supports power supplies both fan up and fan down. There is even a foam pad against the back to help with vibrations. Another 120/140mm fan mount can be used if the power supply isn't oversize. Both locations are protected by another removal dust filter.
With the middle cage removed there is more than enough room for the longest video cards. Does anyone really use that many hard drives these days?
Here is a closer look at the back of the motherboard tray. A 4.5" x 5.5" opening provides easy access to the heatsink and multiple cable guides make cable management a breeze.
I don't think I have ever seen so many cable slots and there is plenty of room behind the motherboard for cabling. No need to fear the window here.