Rosewill WolfAlloy Review Case Review
Author:

Darren McCain
Published:
Wednesday, August 19, 2015

Introduction
When selecting a case we all want style and features without breaking the bank. The Rosewill WolfAlloy case strives to be the answer to your search. We first saw the WolfAlloy and its stone textured brother the WolfStone at CES thanks to the vivid claw marks and couldn't wait to see more.
Targeted squarely at enthusiasts while maintain a price tag well under most of the competition, the WolfAlloy will certainly make the short list for a lot of builders looking to maximize their build dollars. Let's see if Rosewill has hit the mark!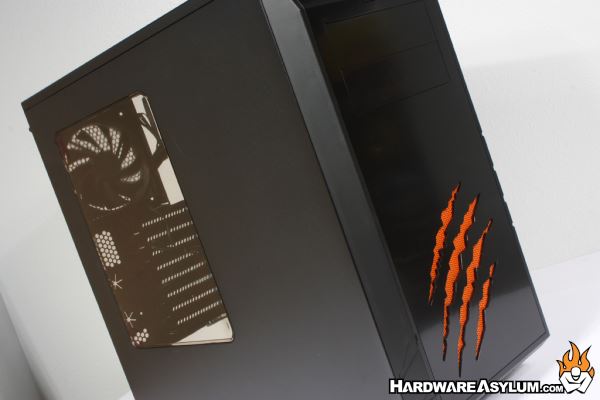 Currently the WolfAlloy is offered in black with the claw mark accent in orange. The black finish is most likely the source of the alloy portion of the name. Those craving even more style points can elect for the stone finish of the WolfStone with its red accent. We are a bit partial to orange accents around here!
The black and orange theme is carried throughout the rest of the case with an all-black interior and orange LED lighting. Yes Rosewill really knows how to get our attention.
Let's get the specifications out of the way:
Features
Full-black interior.
Front-mounted I/O ports.
Advanced Cooling System:
- Front 2x 120mm Fans
- Top 2x 120/140mm Fans
- Rear 1x 120/140mm Fan
- Bottom 1x 120/140mm Fan
Support CPU cooler height up to 175mm
Support liquid cooling radiator up to 240mm on top
Removable HDD cage
HDD trays support 3.5" or 2.5" HDD/SSD
- Tool-Free Design for installing 5.25" device
Easy-access dust filters
Specifications:
Type - ATX Mid Tower
Color - Black
Case Material - SPCC
With Power Supply - No
Motherboard Compatibility - Micro ATX / ATX / Mini-ITX
Side Panel Window - Yes
Expansion:
- External 5.25" Drive Bays 2x
- Internal 3.5" Drive Bays 8(0)
- Internal 2.5" Drive Bays 0(8)
- Expansion Slots 8
Front Panel Ports:
- Front Ports - 2 x USB 3.0 2 x USB 2.0 Audio In/Out
Cooling System:
- 120mm Fans -2x Front (Orange LED) (pre-installed) 2x Top (optional) 1x Rear (pre-installed) 1x Bottom (optional)
- 140mm Fans - 2x Top (1x pre-installed, 1x optional) 1x Rear (optional) 1X Bottom (optional)
Dimensions (H x W x D) 18.11" x 8.66" x 18.90" (bezel included)
Weight 19.18 lbs.
Rosewill may be best known as a part of NewEgg or more aptly as their hardware division but they are striving to establish an identity based on affordably hardware solutions that doesn't sacrifice quality. It's also nice to see the world class customer service is still a bragging point. These days the selection of cases alone makes it a safe bet they will have something you like.
Modding is still a big part of building a computer either it be in component selection or pimping up the chassis the personalization of your computer is a large part of ownership. A budget friendly case with a bit of style like the WolfAlloy might provide the inspiration for a little Dremel work. A full featured case in this price range can provide an opportunity for customization with little risk. That isn't to say you have to modify every case you buy but, every chassis should offer those opportunities and that his how we do our reviews.