Silverstone RV03 Raven 3 Case Review
Author:

Dennis Garcia
Published:
Wednesday, November 02, 2011

Introduction
When it comes to casemodding there are certain boundaries that are rarely crossed in hopes the end result is still a practical chassis. For instance you can mod a case to be mounted on the wall but, if when you are done you find that the monitor cables aren't long enough then your efforts were wasted. The same can be said for practical mods like adding some additional fans. If you place the hole too close to the power supply you may never get to install the fan. The moral of the story here is that casemodding needs to have a purpose and sometimes refining your designs is the secret to success.

In this review we will be looking at a new chassis from Silverstone called the RV03 Raven 3. As the name indicates this is the third case in the Raven series and shares many of the same fundamentals established by the original. The increasing trend with the Raven is to make the chassis more compact without losing the features that made it popular to begin with.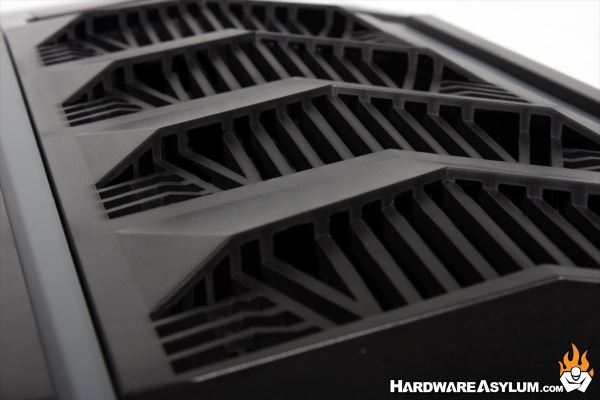 Case Specifications
Model No. SST-RV03B (black, champagne trimming) / SST-RV03B-W (black, champagne trimming + window) / SST-RV03B-WA (black, grey trimming + window)
Material Reinforced plastic outer shell, 0.8mm Steel body
Color Matte black
Motherboard SSI EEB, SSI CEB, Extended ATX, ATX, Micro ATX,
Drive Bay External 5.25" x 7
Drive Bay Internal 3.5" x 10 (6 from 5.25" adapters), 2.5" x 2 for SSD
Cooling System Front 4 x 120mm fan slot*
Cooling System Rear 1 x 120mm fan slot**
Cooling System Side 1 x 120mm fan slot
Cooling System Top 1 x 120mm exhaust fan, 900rpm, 18dBA
Cooling System Bottom 2 x 180mm AP181 fan 700/1200rpm, 18/34dBA (compatible with 3 x 120mm fan)
Expansion Slot 8
Power Supply 1 x optional standard PS2 (ATX), depth limit 180mm
Expansion Card Compatible with expansion cards up to 13.58 inches
Limitation of CPU cooler 163mm
Limitation of PSU 180mm
Net Weight 11.4kg
Dimension 235mm (W) x 522mm (H) x 570mm (D)
Looking over the case specs and contrasting them with the previous
Silverstone Raven 2
we can see there were several improvements made to reduce the overall size, increase video card support and include even more cooling options.