Silverstone Raven RV04 Case Review
Author:

Dennis Garcia
Published:
Thursday, February 06, 2014

Introduction
The Silverstone Raven series is a special line of cases that allow the designers to try new and sometimes unconventional ideas. The most famous of these was the rotated motherboard layout that turned the motherboard such that your video cards exhausted out the top of the case. Doing this allowed for heat to naturally rise and also allowed Silverstone to install larger fans and apply positive air pressure to the chassis.
Of course the most important feature of the Raven series was also the most controversial. Many users complained about the motherboard orientation and reviewers often criticized the design for just being too different. We actually liked the design and saw the orientation to be a benefit in both cooling and casemodding. In keeping with the Raven traditions the forth version changes things slightly and throws in a few other ideas to keep things fresh.
In this review we will be looking at the new Silverstone Raven RV04. As we mentioned before this is the forth version in the Raven lineup designed to push chassis design and see what can be done. Unlike previous designs the RV04 doesn't feature the rotated motherboard orientation in favor of an inverted one. We feel that intent was to make a much shorter chassis and use some of the cooling benefits found in the Temjin TJ08-E.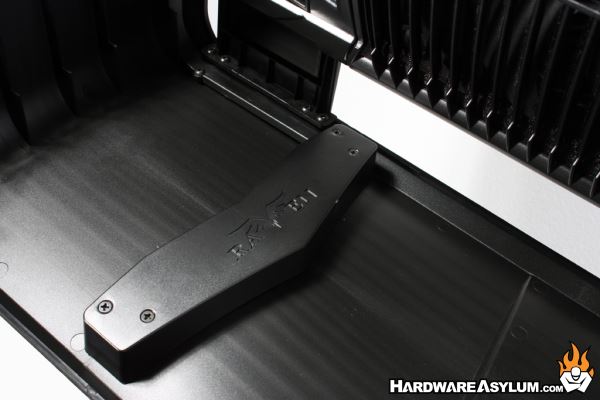 Specifications
Model No. SST-RV04B (black) / SST-RV04B-W (black + window)
Material Reinforced plastic outer shell, steel body
Color black
Motherboard SSI-EEB, SSI-CEB, Extended ATX, ATX, Micro-ATX
Drive Bay External 5.25" x 2 / Internal 3.5" x 7 (2 hot-swap) , 2.5" x 4
Cooling System Front 2 x Air Penetrator AP181 180mm intake fan 600/900/1200rpm, 18/25/34dBA / Rear 1 x 120mm fan slot (option)
Expansion Slot 8
Front I/O Port USB 3.0 x 2 / audio x 1 / MIC x 1
Power Supply 1 x optional standard PS2(ATX)
Expansion Card Compatible up to 13.3" long, width restriction-6.69"
Limitation of CPU cooler 165mm
Limitation of PSU 180mm
Net Weight 10.9 kg
Dimension 219mm (W) x 581mm (H) x 497mm (D), 63.2
Extra Support two Kensington locks