Silverstone Raven RV05 Case Review
Author:

Dennis Garcia
Published:
Tuesday, October 07, 2014

Introduction
Since the launch of the first Raven chassis back in 2008 the product line has served as a test bed for radical new directions in chassis design. The most famous of these is the patented rotated motherboard design that orients the motherboard 90 degrees so that all of the cables exit out the top of the case. Despite the strange orientation the design has several benefits including a cleaner case design and improved cooling.
In this review we will be looking at the new Silverstone Raven RV05. As you may have guessed this is fifth edition desktop chassis in the Raven lineup and brings with it another radical push in chassis design. Unlike the previous RV04 the Raven 5 features the rotated motherboard layout and familiar bottom up cooling method. From there things take an interesting turn and with any luck we'll be able to outline those in this review.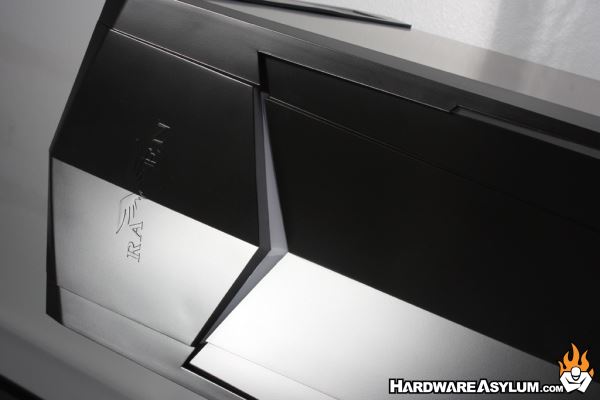 Specifications
Model No. SST-RV05B (black) / SST-RV05B-W (black + window)
Material Plastic outer shell, steel body
Color black
Motherboard SSI-CEB, ATX, Micro-ATX
Drive Bay External Slim slot-loading optical x 1
Internal 3.5" x 2, 2.5" x 2
Cooling System Top 120mm fan slot x 1
Bottom 180mm AP fan x 2, 600/900/1200rpm, 17/25/34dBA
Downward compatible with 120mm fan x 3, or 140mm fan x 2
Expansion Slot 7
Front I/O Port USB 3.0 x 2 / Audio x 1 / MIC x 1
Power Supply Optional PS2(ATX)
Expansion Card Compatible with 12.3" long, width restriction – 6.57"
Limitation of CPU cooler 162mm
Net Weight 7.6kg
Dimension 242mm (W) x 529mm (H) x 498mm (D), 63.8L