SilverStone LD01 Lucid Series Micro-ATX Case Review
Author:

Darren McCain
Published:
Friday, October 26, 2018

Case Layout and Conclusion
From the right side we can see the LD01 hides the power supply behind a matching basement cover. The cover is not removable but helps keep windowed builds clutter free. There is even an adjustable GPU support for those oversized cards to prevent sagging.
The motherboard tray is offset leaving a good deal of space for cabled towards the front. A set of 2.5" drive bays are positioned across the top for your SSDs. Don't worry, there is plenty of cable management to help keep things looking clean for that back window!
Another set of three drive bays is found behind the shroud holding three tool-less drive bays. Another filtered vent provides plenty of airflow for the power supply though some of the front side air could make its way across the drives.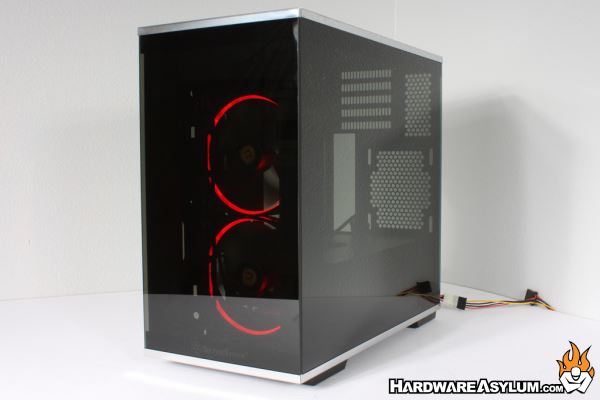 Of course you don't buy a three windowed case if you don't plan on displaying something! The tint provides just enough masking to help hide those pesky wires but still show off that custom build. A good set of lights will go a long ways as you can see here!
Conclusion
It's no secret I love a good windowed case and Silverstone most definitely agrees. The Lucid LD01 may be small but the case is mighty! All your typical bases are covered with plenty of room to add custom lighting and cooling at every step. As with any mini/micro ATX case some planning is required to make sure everything will fit but the extra width makes even a larger CPU cooler possible.
I find the LD01 to be a very promising look at just where SilverStone hopes to take the Lucid series. A three windowed build may sound a bit daunting but with a case like the LD01, you have the foundation for the kind of build you will want to show off.
Good Things
Tempered glass side panels
Open interior design
Great cable management
Outstanding build quality
Bad Things
No included cooling option
Fixed PSU shroud
Venting is limited