SilverStone LD01 Lucid Series Micro-ATX Case Review
Author:

Darren McCain
Published:
Friday, October 26, 2018

Introduction
It's no secret that I am a sucker for a good windowed case. There is just something about a good clean build exposed like some exotic engine. The SilverStone LD01 is just such a case. The three tempered glass windows are just begging for an exotic build full of lights and crazy cooling.
But, looks can be deceiving. Can Silverstone pack all the goodies we expect into a Micro-ATX and still look good? Let's find out!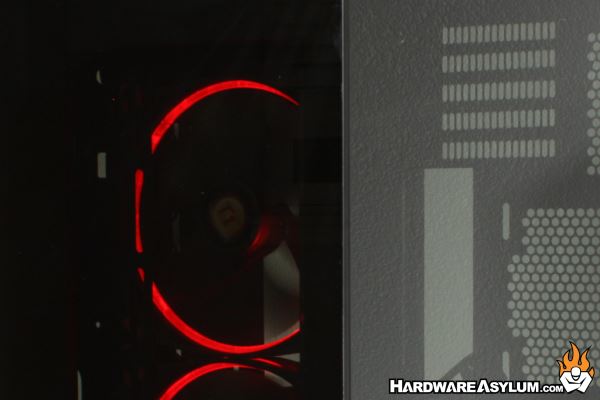 The LD01 is the first case in SilverStones new Lucid case series. According to the marketing the Lucid series in an attempt to combine SilverStone's traditionally excellent engineering quality with transparent or "lucid" aesthetics of glass-based exterior. Offered only in black, the all glass look is nicely framed in stainless steel.
With the LD01, SilverStone is following the recent trend of smaller Mini-ATX tempered glass designs. Surprisingly this smaller size still features their inverted motherboard layout made famous in Hardware Asylum favorites like the Raven RVX01. It may be smaller but you wouldn't know it from the feature list!
Features
Three-sided tempered glass and stainless steel design
Graphics card holder included prevents card bending
Supports up to two 240 / 280mm radiators
Includes front mounted USB 3.1 Gen1 Type-C port
Easily accessible removable filters for dust reduction
Super clean internal look with PSU and drive bay cover
Flexible hard drive bracket can be repositioned to fit radiator or big power supply
Specifications
Model Number: SST-LD01
Material: Tempered glass & stainless steel panels, steel body
Motherboard: Micro-ATX, Mini-DTX, Mini-ITX
Drive bay: Internal 3.5" x 3 (compatible with 2.5") , 2.5" x 2
Cooling system:
Front:2 x 120 / 140mm fan slot
Rear: 1 x 120mm fan slot
Top: 2 x 120 / 140mm fan slot
Radiator support:
Front: 120mm / 140mm / 240mm / 280mm x 1
Rear: 120mm x 1
Top: 120mm / 140mm / 240mm / 280mm x 1
Expansion slot: 5
Front I/O port: USB 3.0 Type-A x 2, USB 3.1 Gen1 Type-C x 1, Audio x 1, MIC x 1
Power supply: Optional PS2(ATX)
Expansion card: Depends on the front radiator and fan thickness, Compatible up to 14.5" (370mm) in length, width restriction –6.85" (174mm)
Limitation of CPU cooler: 168mm
Limitation of PSU:160 ~ 220mm
Net weight: 7.45kg
Dimension:
218mm (W) x 390mm (H) x 431mm (D), 36.6 Liters
8.58" (W) x 15.35" (H) x 16.97" (D), 36.6 Liters
Founded in 2003, SilverStone has been making award winning cases and power supplies since the beginning. Today SilverStone products can be seen all over the world, not just for computer users but also for home entertainment use. Their unique chassis designs and innovative design decisions have long made SilverStone products some of our most recommended from Hardware Asylum.