Tecware Nexus Evo Case review
Author:

Darren McCain
Published:
Monday, March 30, 2020

Case Interior and Cooling
With the side panels removed we can see just how open the case design is. Like most new chassis designs the Nexus Evo does not have any external drive bays and has a place for an internal 3.5" drive rack under the basement panel but, didn't include the drive rails so,'ll have to mount them directly.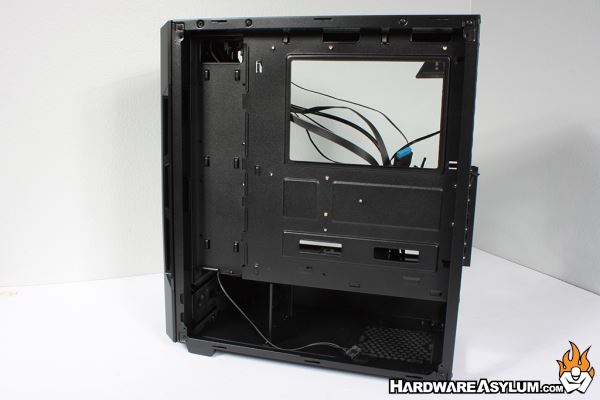 The back of the motherboard tray has a pretty generous amount of space for cable routing and easy access to the back of the motherboard. There are also plenty of anchors to help with cable routing.
You'll find two 2.5" SSD trays on the basement panel to complete the storage options.
Cooling duties are shared between the three included 120mm fans. Two up front and one exhaust in the back.
Here is a closer look at the top of the case. Tecware has set the top up to support both a set of 120mm fans or 140mm fans. This gives you plenty of options for radiator mounting in either 240mm or 280mm configurations.
The Nexus Evo supports video cards up to 350mm and with full ATX support a multi GPU solutions is not out of the picture.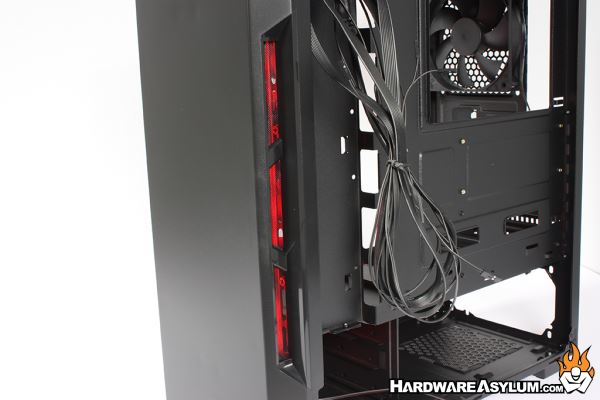 One of the more interesting aspects of the Nexus Evo is the RGB implementation. A set of lights behind the front of the case provides a nice backlighted effect which can be viewed from the cooling vents. These lights are powered by a Molex connection so no special hardware or controller is needed, changing the light color and pattern is just a button press away.
Here is a closer look at the RGB behind the front panel. A button hidden in the bottom of the panel toggles the RGB mode between 7 RGB effects and 7 static colors to match most popular color schemes.