Thermaltake Core V51 Case Review
Author:

Dennis Garcia
Published:
Wednesday, February 25, 2015

Introduction
In the computer enthusiast world there are a variety of niche areas that often get glossed over when calling yourself a "hardware enthusiast". It is easy for us to say "this is an enthusiast grade motherboard" or "that a certain video card is good for overclocking". However, if you are a cooling enthusiast and like to experiment you may have encountered issues finding a proper case to hold your gear. This is often compounded by the near endless supply of worthless "pre-modded" cases dominating the low-end market followed by high-end cases that specialize in either premium aircooling or facilitating even known "feature" regardless if they are helpful or annoying.
Choosing a case is a difficult proposition and often weighs between styles and features. If you are a for mentioned cooling enthusiast you'll also be adding another requirement that the case be modable or come with enough room to hold your gear. In this review we will be looking at the Thermaltake Core V51. This is a Mid-Tower case that comes with many traditional case features and a classic style. Inside it features a conservative layout that can be customized to match your needs and requires virtually no modifications.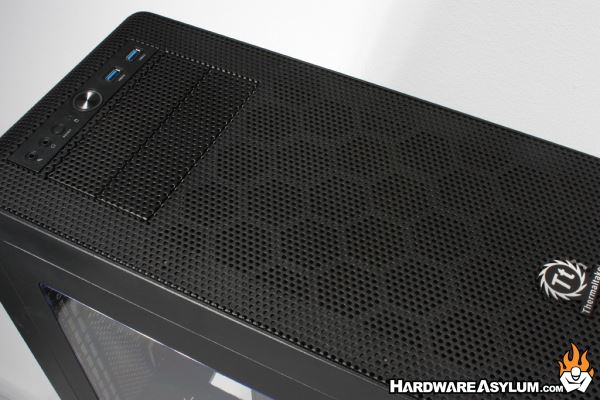 Specifications
Model Core V51
Case Type Mid Tower
Dimension (H x W x D) 540 x 236 x 560 mm.(21.3 x 9.3 x 22 inch)
Side Panel Transparent Window
Color Black
Material SPCC
Cooling System
- Front 120 x 120 x 25 mm Turbo fan (1000rpm, 16dBA) x 2
- Rear 120 x 120 x 25 mm Turbo fan (1000rpm, 16dBA)
Drive Bays
- External 2 x 5.25"
- Internal 5 x 3.5" or 5 x 2.5"
Expansion Slots 8
Motherboards Mini ITX / Micro ATX / ATX / Extend ATX
I/O Ports USB 3.0 x 2, HD Audio x 1
PSU Standard PS2 PSU
Fan Support
- Front 3 x 120mm / 2 x 140mm / 1 x 200mm
- Top 3 x 120mm / 3 x 140mm / 2 x 200mm
- Rear 1 x 120mm / 1 x 140mm.
- Bottom 2 x 120mm
Radiator Support
- Front 120mm / 240mm / 360mm / 140mm / 280mm / 420mm
- Top 120mm / 240mm / 360mm / 140mm / 280mm / 420mm
- Rear 120mm
- Bottom 120mm / 240mm
Clearance
- CPU cooler 185mm
- VGA length 310mm(with HDD rack) / 480mm(without HDD rack)
- PSU length 220mm (With Bottom Fan)
There are a ton of options with this case which is mostly centered on cooling. The case itself is pretty typical both in size and features.