Noctua NH-D15 150mm D-Type Premium Heatsink Review
Author:

Dennis Garcia
Published:
Tuesday, June 17, 2014

Introduction
When it comes to cooling a CPU there are a variety of different ways you can go and each cater to how you plan to use your computer. For those looking to get the best thermal performance a self contained watercooler or large tower heatsink might be the best option, especially when overclocking. OEM replacement coolers are extremely popular in the DIY market and often sacrifice cooling performance for cost and quality of components. While these styles can often be found as hybrids of each other you can never replicate a third popular style, the silent cooler. Silent coolers are more than high performance heatsinks with slow moving fans but specifically engineered to get the best thermal performance when overall airflow may be at a premium.

In this review we will be looking at the Noctua NH-D15 D-Type heatsink. Around four years ago Noctua released the NH-D14 a dual tower dual fan cooler. It was extremely popular with cooling enthusiasts both for its sound performance and superior heat capacity. The NH-D15 is an upgrade of that classic design with larger fans, improved compatibility and the promise of better performance.
Like the D14 from before the Noctua NH-D15 is a dual tower heatsink built on a 6 heatpipe design. By splitting the cooling towers you get more surface area to dissipate heat which can have a variety of benefits from overall heat capacity to lowering the noise footprint.
One of the first things you may notice is the oddly shaped fan which is a standard NF-A15 from Noctua measuring in at 150mm but with a 140mm frame and 120mm mounting holes. The hybrid nature of the fan allows it to be used in a variety of locations including 120mm fan openings and on 150mm heatsinks, like this one. The default configuration is to have a single fan located between the towers but an additional NF-A15 has been included for increased performance.
Another thing to note is the radiator dimensions and construction. Like most heatpipe coolers there is a locking tab to connect and separate the radiator fins. These boxed ends not only make the heatsink extremely strong but also prevent air from escaping out the side. We suspect this not only increases performance but also lowers the noise footprint.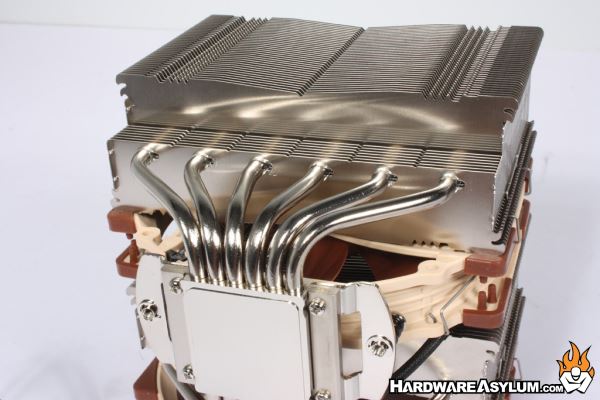 You will find that the heatpipes are evenly spaced across the two towers to help promote even heat distribution and better performance. Given the size of the NH-D15 you can be assured there will be memory clearance issues and to combat this you will find rather large voids cut into the bottom of the heatsink towers. With these relief cuts there is enough room to clear even the tallest memory modules on both LGA 115x and LGA 2011 platforms.