Noctua NH-U9S 92mm U-Type Heatsink Review
Author:

Dennis Garcia
Published:
Friday, March 13, 2015

Introduction
The heatpipe cooling tower is by far one of the most popular aftermarket heatsinks you can buy. It is efficient and rather simple in terms of design and operation. Because of this you can find a variety of different designs from ultra thin towers to some rather large heatsinks comprised of multiple cooling towers, a maze of heatpipes and contorted fan positions. While this kind of diversity is normally a good thing it can also be a breeding ground for inappropriate coolers.
In this review we will be looking at a very unique U-Type cooler from Noctua called the NH-U9S. This is a smaller heatsink designed for their NF-A9 92mm cooling fan and positioned as a high performance OEM replacement for the MiniITX and MicroATX system market. The cooler features a total of five heatpipes that loop from one end of the radiator to another in a staggered array.
One of the first things you may notice is the overall size of the heatsink and how it appears to be pushed over to one side. The size and shape of the heatsink are results of the unique heatpipe array that uses four heatpipes for normal cooling and leaves the fifth for extra heat capacity. This heat is then absorbed by the rather large radiator fins and dissipated by the NF-A9 cooling fan.
This is an interesting design since it helps to reduce load on the fan and offers a lower noise footprint. As a result you have to be mindful of how the cooler is installed to ensure the larger radiator will still clear onboard components.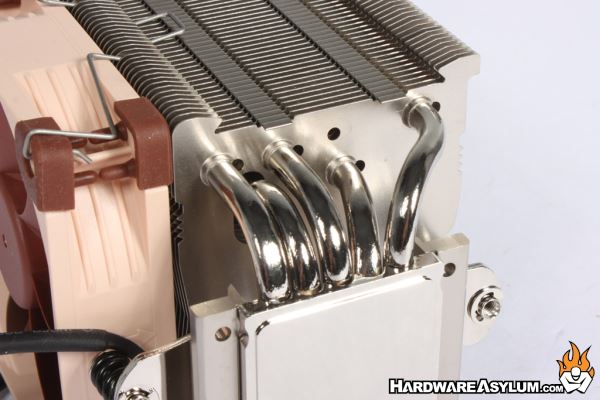 Overall construction is extremely good thanks in part to the excellent Noctua manufacturing process. What is interesting to see is how the nickel plated heatpipes actually interface the radiator fins. By the looks of it they are bonded to a rather large section of the radiator that is also the thickness between the fins. The top fin on the heatsink hides these bonding areas while giving the heatsink a very elegant look that also ensures maximum heat transfer from heatpipe to radiator.