Reeven Six Eyes II Fan Controller Review
Author:

Dennis Garcia
Published:
Tuesday, August 23, 2016

Introduction
In the early days of casemodding the quest to balance cooling with performance was done with a bit of luck and lots of trial and error. The reason for this was simple, fans only spun at a single speed and while you could control fan voltages with your motherboard it was never designed to handle high performance fans.
To battle this modders created elaborate devices to control when fans would come on and even control how fast they would spin. Fan switching is relatively simple with an on/off switch however RPM control is required something called a rheostat baybus. The rheostat would allow you to control the voltage going to each fan or in some cases completely turn them off.

Since then motherboard makers have improved their fan controls and the advent of PWM fans which allows finite control over how fast a fan spins and what events will trigger them. Despite the advances in fan technology there are still power limits using motherboard headers so if you want to get serious about the fans you gotta go old school.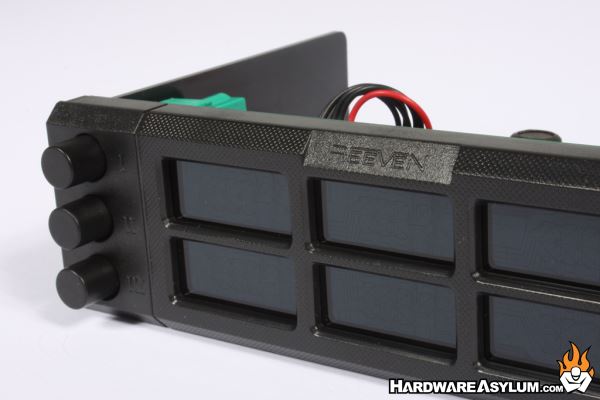 In this review I'll be looking at the Reeven Six Eyes II fan controller. This is a high powered six channel fan controller that gives you full control over your cooling needs and can even give you the weather. Well the temperature part at least.
Specifications
Model Number RFC-02
Dimensions (W)148 x (H)42 x (D)100mm
DC Input DC5V & DC12V
DC Output 3.7V - 12V(±10%)
Output Ampere 2.5A per Channel
Temperature Range 0-99C
Fan Speed Range 0-9990rpm
Weight 240g
Model Number RFC-02
Dimensions (W)148 x (H)42 x (D)100mm
DC Input DC5V & DC12V
DC Output 3.7V - 12V(±10%)
Output Ampere 2.5A per Channel
Temperature Range 0-99C
Fan Speed Range 0-9990rpm
Weight 240g
There isn't much to say about the Six Eyes II that cannot be viewed from the product itself. On the front you will find six LCD screens with an RGB backlight.
Along the sides you will find six knobs for manually setting fan speed. These knobs are normally flush with the bezel but can be extracted with a simple push.
They are slow to extract but fully extend with only a slight delay.
At the back of the Six Eyes II you will find a variety of connections and controls.
Along the left you will find six 3-pin fan headers. They are spaced really close together making it impossible to install a four pin fan without using the included adaptor. Next to that you'll find a 4-pin molex common to floppy drives and unusable with most modern PSUs without the adaptor cable.
To the right of the 4-pin power is a bank of headers, these are for the temperature sensors that display above the RPM on the LCD screen. Next to that is a jumper to change the temperature reading between Celsius and Fahrenheit.
The red block of dip switches control both the LCD panel color and the temperature alarm trigger point. This can be set between 55C and 90C depending on the switch configuration.
A jumper is also provided to disable the speaker which will also remove the auditable version of the temperature alarm.
Testing and Conclusion
In testing the Reeven SixEyes II I connected three fans and a single temperature probe and simply started using the controller. All of the fans were different and responded differently to voltage changes. For instance I hooked up a rather powerful case fan that wouldn't spin below 1000rpm no matter how the dials were set and would move itself around when spinning full speed at 3500rpm. The other two fans included a Noctua NF-12 and an extremely old silent LED fan from Cooler Master.
Speed controls were very smooth with no audible whine anywhere in the voltage range. The temperature probe is most accurate when physically mounted to a surface but did respond to air temperature changes making it good for both ambient and component temperature testing. Reeven suggests mounting the probes to anything you want a temperature reading from and with six probes you'll likely have extras.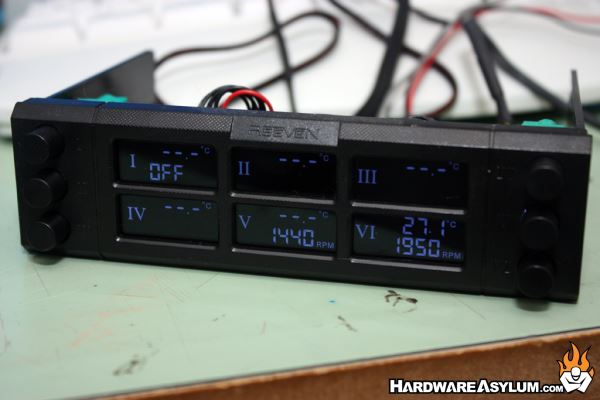 In terms of usability I would have liked to see a knurling on the fan dials along with an indicator as to where the dial was in relation to OFF. It also would have been nice to link fan speed with temperature so that the controller can react to system changes without manual intervention.
Overall the SixEyes II worked as expected and was very easy to use and the LCD screen was responsive and easy to read. Of course the only major drawback is the form factor. Given that you will require an external 5.25" drive bay it makes installation somewhat limited depending on your particular case..