AZIO MGK L80 RGB Backlit Mechanical Gaming Keyboard Review
AZIO MGK L80 RGB Backlit Mechanical Gaming Keyboard Review
Author:

Darren McCain
Published:
Wednesday, August 31, 2016

AZIO MGK L80 Layout and Features
The Azio MGK L80 RGB backlit Mechanical Keyboard shares the same basic 104 key platform as the MGK1 keyboards we reviewed last month. Only the revised wrist rest and media controls have changed. That's a good thing as I now have three AZIO MGK keyboards working around the house!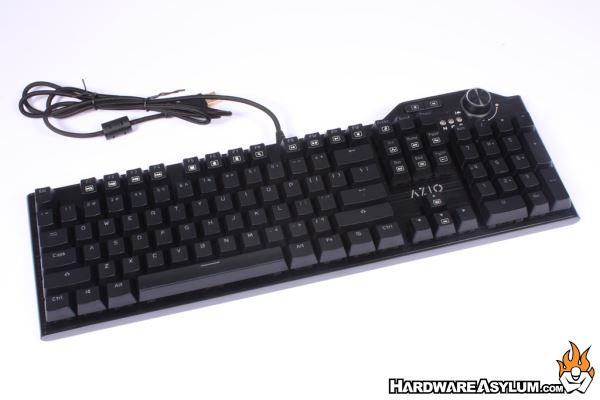 A key design element across the MGK platform is the smaller footprint and the MGK L80 RGB is no exception even with the larger media center break out. This is due to just how tightly the surface mounted keys are positioned as the keys are still full sized. There is simply no wasted space around edges leaving a 147mm x 444mm x 35.5mm (5.8 x 17.5 x 1.4 inches) footprint without the wrist guard. This places it somewhere between a standard 101 size and a compact setup that would normally sacrifice the 10 keys.
A smaller footprint may lead you to think the keys are smaller or crowded in. They are tight but I found no issues with spacing under frantic gaming use. Placing all the functionality onboard does lead to some multi-tasking of the keys. The First four function keys double as programmable Macro keys. The second set provide common Windows hot keys and the third are used for media control along with the print screen button. All are clearly labeled and quite intuitive to use.
One major change is the use of a large wheel for the dedicated on board volume control. This larger wheel is the primary reason for the new panel area over the 10 key and it is much easier to find by touch than the small roller found on the MGK1 series motherboards. The roller is tactile and can be pressed to mute. The extra space makes room for a game mode lock out and a macro button that triggers the onboard macro recording. A total of 4 macros can be recorded and assigned to the first 4 function keys.
The keys are raised off the top plate high enough to give the keys plenty of room for actuation and for the RGB lighting to provide a pleasing back light effect that is visible even under normal office lighting. Strangely I noticed I was catching the cord from my Sennheiser PC363D headphones under the edge of the keys if I wasn't careful!
Another change worth mentioning is the new magnetic wrist rest. The wrist rest attaches firmly to the bottom of the L80 adding an additional 36.5mm (2.5 inches) and features a slight texture for grip. The AZIO Elegantly Fierce slogan and A symbol look pretty awesome without getting gaudy. Using a magnet is clever and the rest is both functional and firm thanks to the rubber grips strategically located on the bottom side.