Cyber Acoustics Essential Docking Station DS-2000 Review
Cyber Acoustics Essential Docking Station DS-2000 Review
Author:

Darren McCain
Published:
Monday, September 13, 2021

Introduction
Like many of us, I have spent much of the last year working from my home office. This has meant transitioning from one office setup to another in my home. My work supplied me with a Dell laptop which does a great job of fulfilling the basics but, I really miss the multi- monitor support I had at the office and needed to find a solution.
Today we will be looking at a docking station solution from Cyber Acoustics, the Essential Docking Station DS-2000. The DS-2000 supports two external 4k monitors and so much more. Let's take a closer look.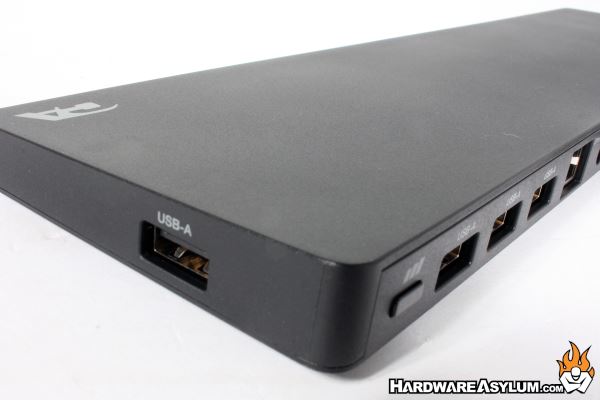 Cyber Acoustics (CA) is an unfamilar company for me and offers an array of peripheral products targeted at the work from home crowd. Currently they offer two different USB-C docking stations; the smaller Essential Micro Dock (DS-1500) and the Essential Docking Station (DS-2000) that you see here.
The primary differences are the Wireless Qi charging on the smaller dock and dual monitor support on the larger dock along with the overall power output available for charging your laptop.
Connections
x1 - USB Type A Gen 1 Port
x3 - USB Type A Gen 2 Ports
x1 - HDMI Port
x1 – DisplayPort
x1 - RJ-45 Gigabit Ethernet Port
Integrated Security K-Slot (Lock cable not included)
Specifications
USB C Cable: Length: 22" tethered to docking station
Max Video Resolution: 4k dual monitor displays, HDMI & Display Port outputs 4K 60Hz with DP 1.4 laptop
Active Cooling: Integrated fan with three speed settings
USB: 4 USB 3.1 Gen 2 High Power Type A USB ports
Ethernet: RJ45 1000 Base-T
Power Delivery: 90 Watt Power delivery to Laptop (130W power adapter included)
Dimensions: 13.6" x 3.2" x 0.7" (back) 0.4" (front)
Weight: 13.6 oz (not including power adapter)
Compatible OS: Windows 10 64-bit
Most of us tend to shop for docking stations based on the connectivity options but the DS-2000 has some compelling additional functionality. For example, the longer size of the dock does double duty as a stand to raise your laptop keyboard for a more ergonomic typing experience. In the raised position a three speed fan can assist with system cooling by circulating additional air from under your device.
For me, the most appealing feature is the support for two 4K monitors and additional USB connections. There are a lot of connections! Starting with the right side we have a USB Type A Gen 1 port. Across the back we have the three speed fan selector, 3x USB Type A Gen 2 ports, a RJ45 1000 Base-T network port, The AC power plug, a Display Port connection, a HDMI Connection and support for a security lock.
Testing
To test the DS-2000 dock I connected it to my work provided Dell XPS laptop first via the accessory USB C port then via the default USB-C charging port. In both cases the DS-2000 came up in seconds via Plug and play. Plugging in my Acer 4k Monitor and the activation was nearly instantaneous and love the fact that no additional drivers were needed!
I have spent a couple of weeks using the DS-2000 and found it vanishes into the background like any good office tool and is really easy to reconfigure. The Acer 4k can be swapped for a Dell Think Vision monitor, (office provided) and the lower 1920 x 1080.resolution switched without any issues.
There are a few of things to remember if you are considering the DS-2000 dock. First, dual monitor support is currently NOT supported on MacBooks. Second, Dual monitor support is only available if you connect one via HDMI and the second using the DisplayPort. And support is limited to Dual Display - 4K@30Hz or Single Display – 4k@60Hz with DP 1.4 notebook.
And finally USB-C charging is limited to a max of 90W. That is a lot for a third party charging dock but on my Dell XPS I get a warning that I am only getting a slow charge. For rapid charging I still need my Dell supplied power brick.
Conclusion
Cyber Acoustic's CA Essential Docking Station DS-2000 offers a wealth of options for a pretty competitive price. Like all aftermarket docking solutions, the DS-2000 can be a "one size fits all" solution so be sure to check that your setup is not incompatible. Overall the DS-2000 provides an easy and full featured docking solution that will make your home office time more enjoyable! After just a few days of use the DS-2000 has found a permanent place on my desk and would recommend it for dual monitor support alone but, I use the additional connectivity options daily so it really becomes a package recommdation.
Some Additional Images