Cyber Acoustics Essential Triple Monitor Laptop Docking Station DS-6000 Review
Cyber Acoustics Essential Triple Monitor Laptop Docking Station DS-6000 Review
Author:

Dennis Garcia
Published:
Tuesday, June 6, 2023

Introduction
Working from home has become a common theme for white-collar jobs and while certain jobs still require an On-site presence there are many that have transitioned to a Hybrid or Fully Remote working schedule. For those of us lucky enough to work from home it is important to ensure that your working environment is comfortable, ergonomic and productive.
Typically, that includes things like a good quality chair and properly sized workspace but, should also include a full-sized keyboard, mouse and multiple monitors.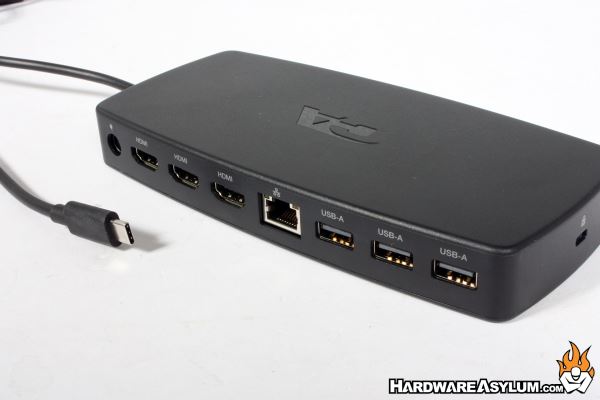 In this review we will be looking at the Cyber Acoustics Essential Laptop Docking Station DS-6000. This is a compact mobile docking station that offers a wide variety of different connections while also pushing the limits from what a normal docking station can do. This dock was shown off during CES 2023 and on the surface looks to be similar to the DS-1000 with several major upgrades.
Let's check out the included features
The Cyber Acoustics DS-6000 is slightly longer than the Cyber Acoustics DS-1000 docking station and around the size of a normal power brick. Overall dimensions are 7" x 3.25" x 1" and features single USB-C connection making it compactable with laptops having USB-C or Thunderbolt. Most modern laptops have these ports allowing them to work with virtually any docking station.
Along the front you will find a total of three USB ports, a single Type-A and two USB-C.
The interface side of the dock features three HDMI connections, a single RJ-45 network port, three (4) more USB Type-A ports. A single power jack enables the device providing power to the USB ports while also charging your laptop. A Kensington lock is available to help make sure the docking station stays in a single location.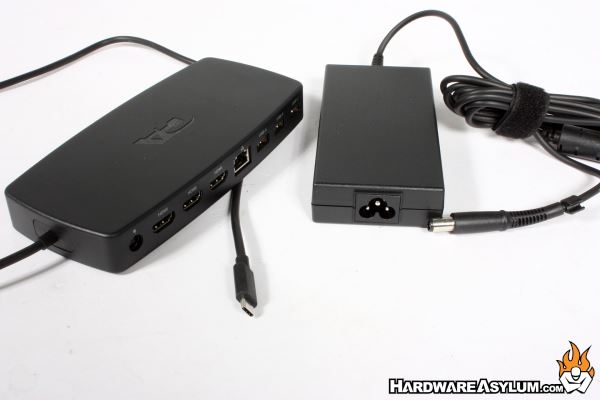 As mentioned before the primary connection is a single USB-C cable measuring roughly 3' and to help make sure your laptop stays changed you will get a 130w dual voltage AC power adaptor made by LiteOn. The docking station will deliver up to 90w for laptop charging, the extra power helps with efficiency and excess heat while also powering the docking station.
The Perfect Workstation
To build an effective workstation at home you need a surprisingly small amount of hardware. As I mentioned a quality chair is a must and I would strongly recommend a "mid-rise" chair back to support your shoulders but not your head. After that a good work surface is extremely important. Sure, you can sprawl out on the kitchen table or get one of those plastic tables at the hardware store but neither of these promote good posture and are too small to support the other items you need.
For those of us working from a laptop your perfect workstation journey has just started and you will need a few more items. The main purpose of a laptop is to provide you with a portable computer, and that is it. There is no concession made for keyboard ergonomics, the pointing device is too small and while the included monitors are getting better, they are often too small for extended use.
This is where the Cyber Acoustics DS-6000 can help and give you the option to create the perfect workstation will also allowing you an easy way to transport your portable computer back to the office or on the road for trips. To do this simply attach a full-sized keyboard, mouse and up to three 4K monitors using the included HDMI ports and away you go! The best part is, you can easily swap out the encrypted work computer for a personal device and save you from having to duplicate everything.
Conclusion and Usage
Much like the DS-1000 that I recently reviewed the newer DS-6000 works extremely well and features the same quirks. The multiple USB ports are extremely helpful in connecting keyboards, mice and headsets There is no power button on the docking station so the laptop will need to be powered on normally for everything to work and the available monitor connections are all HDMI.
The new DS-6000 does have several technical requirements if you want to take advantage of its features. For triple 4K monitor support your device needs to support either Thunderbolt 3 or 4. For USB only devices the output will be reduced to dual monitor. Of course, you can still use the laptop screen but, what is the fun in that!?! You will also want to ensure that you have installed the latest USB DisplayLink driver for the best compatibility.
It should also be mentioned that the DS-6000 is a progressive device designed to take advantage of the latest technology across both PC and Mac platforms. To achieve the best results, you will also want to ensure this translates to the monitors you connect. (eg: new = good

).
In my testing I was extremely impressed with the versatility of the DS-6000 on supporting different configurations. For instance, the dock works great as a secondary monitor allowing you to easily extend the desktop across the available displays while still using the laptop screen. Or, by closing the lid, it will automatically transition into a single or dual desktop without any issue. You would think this is just how a docking station works but, it continues to be a problem on docking stations from well known laptop makers.
In terms of performance there was no lag when dragging applications between screens and found the USB ports to be responsive and a perfect extension to the ports on my laptop.
For more information on the Cyber Acoustics DS-6000 Laptop dock visit their website
Good Things
Supports Triple Monitors over HDMI
4K @ 60hz Resolution Supported
Six USB Gen 2 Ports
RJ-45 Network 10/100/1000
90w Charging over USB-C
TAA Compliant
Bad Things
No power button on dock
No DisplayPort option