Cyber Acoustics Essential Laptop Docking Station DS-1000 Review
Cyber Acoustics Essential Laptop Docking Station DS-1000 Review
Author:

Dennis Garcia
Published:
Saturday, October 22, 2022

Introduction
After the worldwide "situation" the working dynamic for employees and employers has changed considerably. More people are working from home and will often replicate their normal "office" environment somewhere in their living space. I happen to be one of those people and while I enjoy the newfound freedom it does create some interesting challenges when that dynamic happens to change.
For instance, my home office is complete with a company provided docking station that I have hooked into a full-sized keyboard, excellent mouse, headset (for conference calls) and two screens. As a developer it is imperative that I am able to spread my work around and get a better view of things. External monitors are essential given that the screen on my company laptop not only has low resolution but is also extremely small.
The above situation is pretty common for a home office worker but, what happens when you need to leave this optimal working environment and hit the road? Or maybe you are looking for a versatile laptop dock to improve your situation?? Well, this product might be just what you are looking for.
In this review I will be discussing the Cyber Acoustics Essential Laptop Docking Station DS-1000. This is a compact mobile docking station that offers a wide variety of different connections while also remaining extremely compact.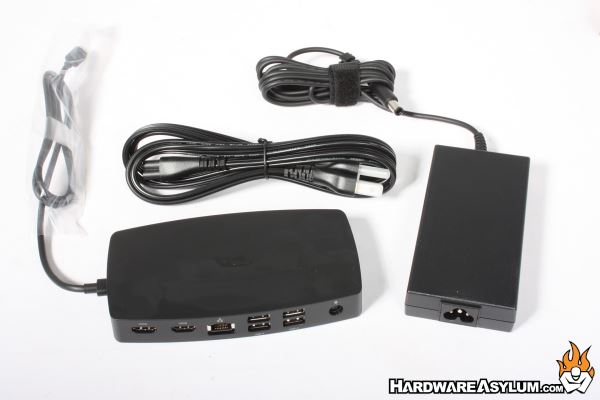 Contrast this product with the larger DS-2000 that we recently reviewed and you will quickly see that not only is the DS-1000 smaller but, comes with several advantages depending on how you want to setup your system.
Let's check out the included features
The Cyber Acoustics DS-1000 is extremely compact being no larger than a normal power brick. Overall dimensions are 6.25" x 3.25" x 1" and features single USB-C connection making it compactable with laptops having USB-C or Thunderbolt. Most modern laptops have these ports allowing them to work with virtually any docking station.
Along the back you will find two USB ports, a single Type-A and USB-C.
The primary side of the dock features two HDMI connections, a single RJ-45 network port, four (4) more USB Type-A ports and a single power jack. Next to the cable you will find a Kensington lock port to help make sure the docking station stays in a single location.
As mentioned before the primary connection is a single USB-C cable measuring roughly 3' and to help make sure your laptop stays changed you will get a 130w dual voltage AC power adaptor made by LiteOn. The docking station will deliver up to 90w for laptop charging, the extra power helps with efficiency and excess heat while also powering the docking station.
Conclusion and Usage Options
There are several ways you can effectively use a Laptop Dock and I described one early in this review. If your only computer happens to be a laptop you can increase the usability of that device considerably by adding larger monitors and full-sized keyboards and mice. Combine that with a proper chair and you will be set with a great workstation.
For me, I see this dock to be the perfect companion for travel and depending on the purpose of the trip I might have two devices with me. For my day job I'll be required to bring the encrypted company device so I can access the network. It is "unwise" to do personal work on a company computer so, I will also bring my personal laptop so I can do work on Hardware Asylum while providing me with a bit of entertainment.
The Cyber Acoustics DS-1000 would be a perfect companion in this instance. And while it is impractical to bring full sized keyboards and mice the hotel TV can serve as a secondary monitor and the DS-1000 would be the hub allowing you to swap your laptops without having to unplug anything except for a single USB-C connection.
Of course, having the DS-1000 also charge your device means that you can leave extra power adaptors at home making your travel bag lighter along with less things to lose along the way.
In my testing I was surprised to find that the DS-1000 will simulate a secondary monitor allowing you to extend your primary laptop display. Or if you close the lid, it will automatically transition into a single or dual desktop. I didn't notice any lag when dragging applications between screens and found the USB ports to be responsive and a perfect extension to the ports on my laptop.
One thing I did notice is that the Cyber Acoustics DS-1000 didn't come with is a power button. While this does seem trivial for of us who leave our laptops on when connected to the power brick it does mean that if your system is powered off you will have to lift the lid to power on the system.
For more information on the Cyber Acoustics DS-1000 Laptop dock visit their website.
Good Things
Supports Dual HDMI Monitors
4K @ 60hz Resolution Supported
Six USB Ports Supporting 10Gps
RJ-45 Network
90w Charging over USB-C
TAA Compliant
Bad Things
No power button on dock
No DisplayPort option