Cooler Master CM Storm Power-RX Mouse Pad Review
Cooler Master CM Storm Power-RX Mouse Pad Review
Author:

Dennis Garcia
Published:
Friday, March 15, 2013

Introduction
Professional gamers have a skill and that skill is the ability to practice and adapt. You see playing video games isn't all that different from playing golf or driving a race car. Sure, there is a competitive aspect to it all but when you look at the fundamentals the difference between winning and losing boils down to how well you know the equipment. Faster video cards will give you smooth visuals and Overclocked processors will minimize lag but none of that means much if your input isn't registered correctly.

In this review we will be looking at a new gaming mousepad from Cooler Master called the CM Storm Power-RX. The Power-RX is a hybrid mouse pad designed for hardcore gamers looking for the ultimate in precision and features a low friction textured fabric that is dipped in a special rubber compound to provide a uniform surface that is smooth and flexible.

Unlike traditional cloth rubber mouse pads the Power-RX is delivered in a stylish tube with a well placed carrying strap for easy transport. The tube doubles as a storage device for the LAN gamer on the go and serves to protect the mouse pad from damage.
On the container you'll notice that both surfaces are called out by color so there is no confusing which is which. You will also find a small sample fob attached to the carrying handle giving you something to touch without having to open the package.

The Power-RX is quite large measuring in at 17.7" x 13.7" (45 x 35cm) giving the gamer plenty of surface area and the choice in how they use the DPI settings on their mouse. Twich gamers will like this pad because of the smooth surface and ability to flick the mouse with effortless ease. Precision gamers will enjoy the large surface area for uninterrupted sniping sessions with unmatched precision and control.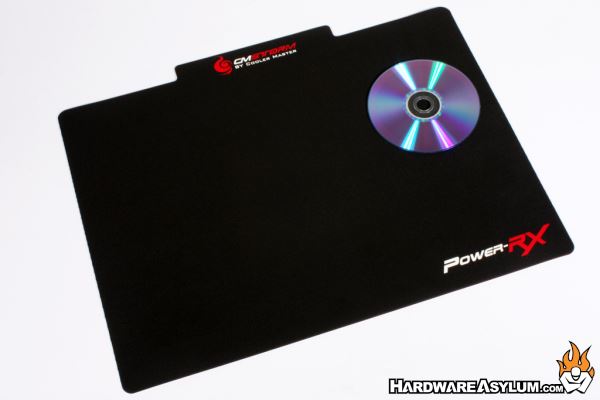 The texture is very difficult to describe but is comprised of a micro weave fabric that is infused with a soft rubber texture that reminds me of the rubberized coating you find on high-end cases like the CM Storm Trooper and a few select gaming mice. This pad is very much a fabric gaming pad but with less surface friction.

Turing the pad over will expose the silicon rubber base that not only provides excellent grip on any surface and does so without any tact. By this I mean dirt, dust, cat hair, etc doesn't stick to the textured red surface and yet easily molds itself to any flat surface.

Conclusion
There are all different kinds of gaming surfaces and just because the product is earmarked for a gamer doesn't mean it's a market exclusive. The CM Storm Power-RX is an extremely large mousepad designed for the gamer looking for the ultimate in precision and control. The pad features a fine mesh fabric mousing surface that has been infused with a special rubber coating, these materials combined give the mousepad a very uniform surface that is both tactical and responsive.

The Power-RX is also very flexible and will easily conform to any flat surface and absorb any minor imperfections. It should be noted that the pad is rather thin and while it strives to lay flat you will notice if anything substantial is located underneath.

Personally I rather enjoyed using the Power-RX. I found it to be extremely precise with a feel that is similar to using a high quality cloth mouse pad with minimal surface resistance. Users that prefer the rubber backed cloth pads but are looking for something a little larger will want to give the Power-RX a try, you won't be disappointed.