Mad Catz Cyborg MMO 7 Gaming Mouse Review
Mad Catz Cyborg MMO 7 Gaming Mouse Review
Author:

Warren Young
Published:
Thursday, July 25, 2013
Introduction
Part gaming mouse, part top-secret stealth fighter aircraft, the Cyborg MMO 7 mouse is one of the newer wired offerings by Mad Catz in the competitive peripherals industry. With its aggressively angled body styling, innovative adjustable control features, and 13 programmable buttons, I think someone should be phoning up the UN because I'm pretty sure Mad Catz just produced a WMD with this little beast.

Targeted primarily at the MMO gamer, (hence the name) the MMO 7 offers an expanded offering of keymapping and macro options with the Mode & Switch keys, turning those aforementioned 13 buttons, into 78. You could probably map enough of your keyboard to this mouse to never have to touch it again. While that might be an inefficient option, I'm just saying the potential is there.

On top of all those extra buttons, Mad Catz has also included a virtual Swiss army kit of additional palm rests, pinkie grips and weights to make each mouse your own, along with an adjustable 6400 dpi laser sensor to give you as much customization in your game as on the mouse itself.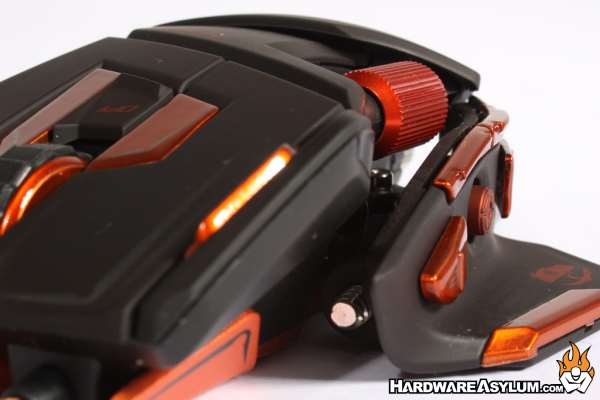 This was my first contact with the Mad Catz line of mice, and I was excited at the chance to get it running in a couple games to test out it's features… that is of course, if I could break away and stop bolting on every different accessory and trying them all out and the different weights available long enough to actually plug it in.
Once I finally had it set to where I liked it (High-rise palm, textured pinky, 18g of weight, thumb dialed all the way forward) I moved into setting up the software, moving through the menus, it moved very easily and felt very sturdy in the hand. The abrupt end of the back of the mouse took some getting used to through. Call it "phantom mouse syndrome" but the only other mice I've used up until now have all had the unibody design that runs all the way down to the mat, I just wasn't used to it not being there. It didn't take long for the feeling to pass however.
Using in-game key-mappings, most of the games I tried the mouse on only recognized five of the thirteen buttons the MMO 7 is sporting. The mouse software is required to get utilization out of the remaining buttons, mapping existing key-mappings or sets to build a macro. There are two non-programable buttons accessible by the index and ring finger, named Mode and Switch. The mode button allows you to cycle between three different full mouse key mappings and is color coded on the button so that you can tell at a glance which mapping you're currently using. The switch button allows you to rebind all three modes again with a second function. So, each of the 13 programmable buttons can hold up to six different mappings using the Mode & Switch keys, getting you up to your 78 programmable buttons.