EVGA Z10 Keyboard Review
EVGA Z10 Keyboard Review
Author:

Dennis Garcia
Published:
Thursday, April 05, 2018

EVGA Z10 Keyboard Layout and Features
Like most mechanical keyboards the EVGA Z10 has a flat base allowing you to see the keyswitch under the keycap. I've always found this to be a little weird but does reaffirm that you are using a mechanical keyboard over a common membrane style.
The keys are set on a standard spacing and feature the common "cherry" mechanical switch stem (the plus) allowing you to swap the caps with whatever style you prefer. The 26 letter keys are using a custom font with larger letters than you might expect.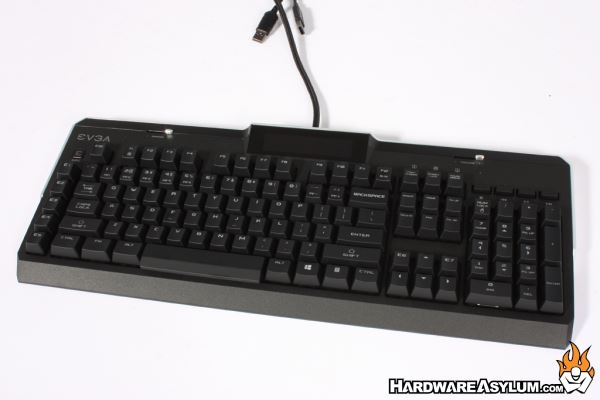 Kailh switches are used throughout the EVGA Z10 and are available in either Blue or Brown switch types. Brown offers a nice mix between gaming and typing by providing the user with a tactile feedback that doesn't generate any excess sound. Kailh blue keys are of the clickly variety and require a little more actuation force to activate. Some say the blue switches are best for typists but that doesn't mean you cannot use them for gaming. You'll just be the person with the noisy keys.
The review unit came equipped with Kailh Brown keys and react how you would expect. I did find the spacebar to be wobbly when pressed indicating that the corners were not supported very well. This didn't impact pressing the key but is something you may notice.
Along the left side of the keyboard you'll find a set of macro keys that are programmable using the EVGA Z10 software. Above the macro keys is the "E-Key" that when pressed can quickly enable and disable features. Personally I pressed this key plenty of times and never noticed anything change.
At the top of the keyboard you'll find two slide switches. The switch on the left is a dimmer for the LED backlighting while the slide on the right is for volume. Media keys are located at the top of the 10-Key number pad and feature all the greats including stop, rewind, play/pause and fast forward.
EVGA has included two USB ports on the Z10 located on both the left and right sides of the keyboard. These are controlled by an internal USB hub that draws off the secondary USB cable. Speaking of cables the Z10 comes with a very heavy and cloth braided cable that splits near the end into two USB plugs. A small graphic is embossed in the plug to tell you which one it is.
Supporting the Z10 is done with two spring loaded "feet" that flip out at the touch of a button. A wrist rest and replacement keycaps are also included for when you wear out the originals.