HyperX Alloy Elite Mechanical Gaming Keyboard Review
HyperX Alloy Elite Mechanical Gaming Keyboard Review
Author:

Darren McCain
Published:
Monday, July 17, 2017

Introduction
Computex season is upon us and with it the latest batch of enthusiast product releases. HyperX is building on the success of their gaming targeted Alloy FPS series of keyboards with new styles of HyperX Alloy Mechanical Gaming Keyboards; an Alloy FPS with no 10 key and a larger Alloy Elite model.
Today we will be looking at the HyperX Alloy Elite Mechanical Gaming Keyboard. With the Alloy Elite, HyperX brings the primary features we loved in the Alloy FPS to a more traditional design. Is this the HyperX keyboard for you? Let's find out!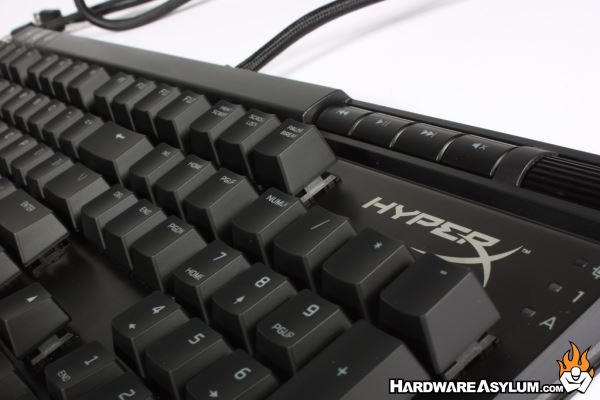 The HyperX Alloy Elite will be offered with RGB lighting or single colored backlit mechanical keys. Red, Brown, and Blue key switch options from Cherry MX round out the available options. As with all the Alloy line, there is no software for the Alloy Elite. All of the functionality is controlled through the keyboard function keys and the custom controls across the top.
Our Alloy Elite ships with the popular Cherry MX red switches and matching red LED lighting.
Features
Compact design ideal for FPS gameplay
Solid-steel frame
Cherry® MX mechanical keys
Convenient USB charge port
Game mode, 100-percent Anti-Ghosting and full N-key rollover functions
HyperX red backlit keys with dynamic lighting effects
Eight additional colored, textured keycaps for FPS gameplay
Specifications
Type: Mechanical
Switch: Cherry MX
Backlight: Single color, Red
Light effects: 6 LED modes and 5 brightness levels
Connection type: USB 2.0 (2 USB connectors)
USB Pass-through: Yes (mobile phone charging only)
Polling rate: 1000Hz
Anti-ghosting: 100% anti-ghosting
Key rollover: 6-key / N-key modes
Media control: Yes
Game mode: Yes
Cable Type: braided /Length: 1.8m
2 Year Warranty
Free Technical Support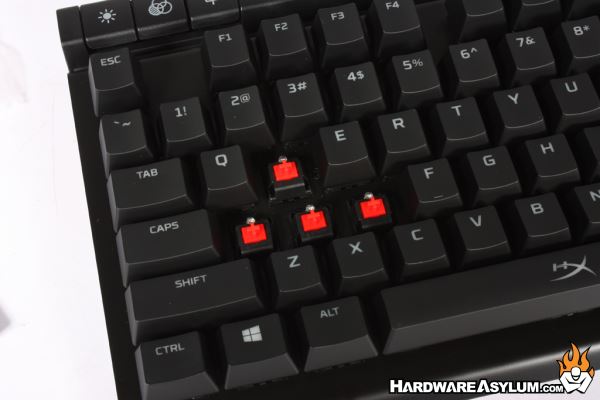 Choosing your mechanical keyboard often boils down to identifying what type of Cherry MX switch you like the most. Blue tends to favor typists with a more tactile or "clicky" action. Blue can also make it harder to double tap but provides the most feedback in terms of touch. Reds require less force and tend to favor a softer touch which can also lead to accidental key presses but can be more responsive. Black switches are similar to reds but require more force to actuate the key. Black switches require 60 cN (centi-Newtons) of force to actuate, while the Red switches only requires 45cN. Browns tend to be a little bit of both. While they are less tactile, and less "clicky", they do have a feedback to them while still requiring less force than the reds. Green is a very rare switch type often referred to as a stiffer blue making its inclusion all the more notable. Green is both a tactile and a clicky switch often reserved for the space bar. You can both feel the tactile bump and hear the "click" that occurs when the activation point is hit.
HyperX is the high-performance product division of Kingston Technology, the world's largest independent memory manufacturer. Started in 2002, HyperX began with one line of high-performance memory and has grown over the years to encompass multiple product lines of memory modules, solid-state drives, USB Flash drives, headsets and mouse pads. Featuring best-in-class components that deliver superior performance, quality and aesthetic design for more than a decade, HyperX products are the choice of top-rated gamers, tech enthusiasts, and overclockers worldwide. From setting memory world records to achieving the most stringent product certifications, HyperX is committed to delivering reliable products with the highest performance standards.