HyperX Alloy Elite Mechanical Gaming Keyboard Review
HyperX Alloy Elite Mechanical Gaming Keyboard Review
Author:

Darren McCain
Published:
Monday, July 17, 2017

Alloy Elite Layout and Features
Calling the Alloy Elite a traditional design may not be entirely accurate. The Elite model may be larger but it does share the slim solid-steel frame as its smaller siblings. The additional size can be attributed to the top bar and a textured wrist rest.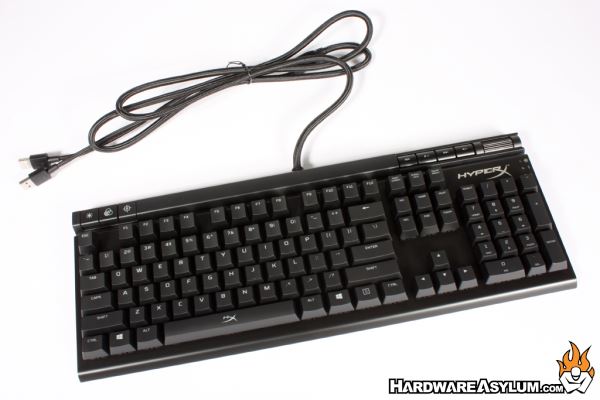 The top bar serves as both an accent, thanks to the attractive led lighting, and home of onboard controls. Media controls have moved from the function keys to a set of dedicated media keys and a volume roller. The popular Cherry MX keys are surface mounted following the trend we have been seeing in gaming keyboards with LED lighting lately. This not only helps the effectiveness of the accent lighting, it also makes it easy to clean and maintain the keyboard over time.
Three new controls on the top left provide LED Brightness control, LED Mode toggle and a Game Mode button to lock out the pesky Windows key. A total of 6 LED modes and 5 brightness levels can be adjusted using the function keys. Backlight modes are: Solid, Breathing, Trigger, Explosion, Wave and a Custom setting.
A charging port is present on the top edge of the frame to allow for charging your phone or other USB 2.0 compatible devices. This feature does require a second USB connection on your PC to power. On the Alloy Elite the USB port is USB 2.0 compatible pass-through support another USB peripheral like a mouse or headset.
A hard plastic wrist rest is included extending the width by about three inches. Two clips similar to those used in the adjustable feet hold things firmly in place. I actually found myself flinching as I snapped the wrist rest off due to the unexpected force required.
I didn't think I would like the simple design even with the nicely textured surface but it quickly grew on me. The low profile may make this addition unnecessary for those with larger hands. Still, I would like to have seen a more "elite" wrist rest maybe with a magnetic attachment. Thanks to the texture, the design quickly faded into the background over a series of play sessions.