NZXT Aperture M Card Reader Review
NZXT Aperture M Card Reader Review
Author:

Dennis Garcia
Published:
Sunday, June 03, 2012

Introduction
The digital age has put alot of emphasis on connectivity is very important and when it comes to your PC that usually means Wi-Fi, USB, Ethernet and even optical storage. With those four things you can connect almost anything to your computer. However, when it comes to digital multimedia like from a camera or video device it is often faster to connect to the memory device directly than go thru USB.

In this mini review we are looking at the new NZXT Aperture M multi media panel that features a USB based card reader and two native USB 3.0 ports. The Aperture M fits in any 5.25" drive bay and will connect directly to your motherboard using motherboard header plugs.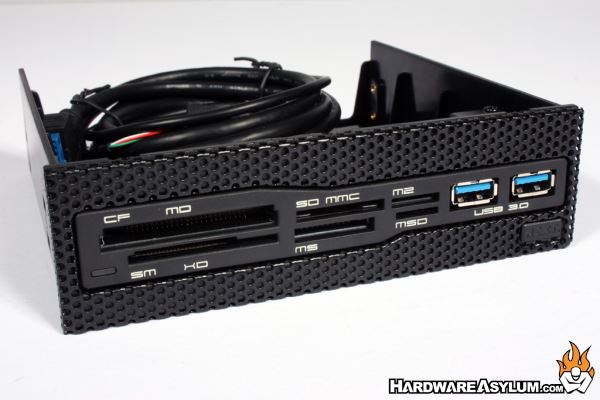 Specifications
Color: black (with mesh panel)
Installation: 5.25" ODD
Connection: usb 2.0 / 3.0 header
Support: cf, md, sm, xd, sdhc, sdxc, mmc, ms, m2, micro sd
Led: white

Installing the device is easy. You knock out an open drive bay cover and install the Aperture M like any other 5.25" device securing it with the included screws or tool-less clips (depending on your case configuration)

The blue plug connects to the larger USB 3.0 header on your motherboard and controls the blue USB 3.0 ports. Card reader functions are enabled using the small USB 2.0 port that also connects to an open header on the motherboard. Both leads are two feet in length (24") and should work in most situations. Once the connections are made, power on your computer and allow your operating system to recognize the new devices.

In terms of design and operation we had no issues getting data from an SD card and performance is what you would expect. The black mesh panel should compliment any number of cases and also gives you a modding opportunity to color match if your chassis happens to be a different color.