Viper V765 Mechanical RGB Gaming Keyboard Review
Viper V765 Mechanical RGB Gaming Keyboard Review
Author:

Darren McCain
Published:
Thursday, December 27, 2018

Viper V765 Layout and Features
All of the Viper keyboards share the more traditional 101 key layout most of us are familiar with. The V765 is on the larger size with a wedge shape and added multimedia controls. Despite the taller profile, the overall footprint is pretty small when compared to most gaming keyboard designs on the market.
I found that the keyboard angle was very natural right out of the box however, for those that want more two feet can extend in the back to add an additional half inch to the angle. A set of rubber pads across the front and on the wrist rest hold the V765 firmly in place,
A simple set of media controls and a large, textured volume roller are the only additions on the top. The software does allow for macro recording but there are no dedicated macro keys to take up space around the sides.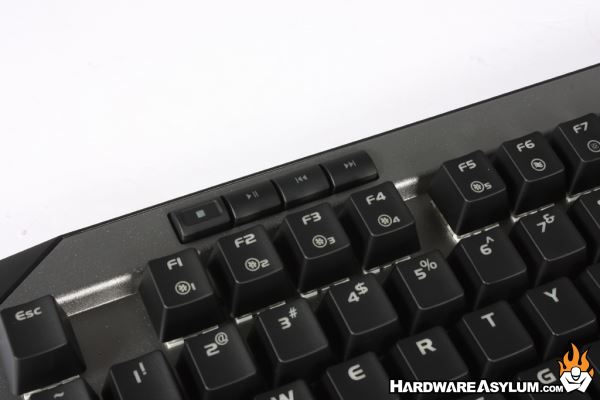 The wrist rest is held in place by magnets and is on the smaller side. The top surface is a tacky rubber that provides an amazing amount of grip. I found it also grabs lint and such but wipes clean with a damp cloth.
One of my favorite things about the V765 design is the inclusion of all the controls for the lighting and controls right on the keyboard. This makes the software installation optional. While this is more commonly used by e-sports competitors, I do like keeping unnecessary software off of my PC.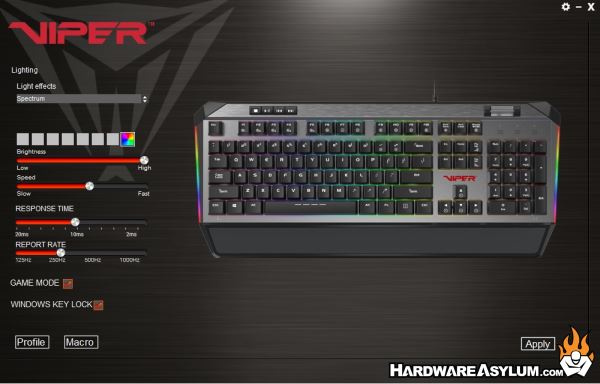 Take a look at the simple software suite. That's right only one page! Most of the control is dedicated to controlling the RGB lighting. You can also tune the response time, report rate and enable the Windows Key lock. I am not sure what Gaming Mode is but it is checked by default.
Seems good!