Viper V765 Mechanical RGB Gaming Keyboard Review
Viper V765 Mechanical RGB Gaming Keyboard Review
Author:

Darren McCain
Published:
Thursday, December 27, 2018

RGB LED Lighting and Conclusion
Up to 16.8 million colors are available but you can choose from a selection of solid colors and the default multi-color option if you don't prefer. Light effects are: Static, Breathing, Wave, Reactive, Sidewinder, Ripple, Spectrum, Raindrop, Vortex, Spotlight, Radar and up to 5 custom profiles.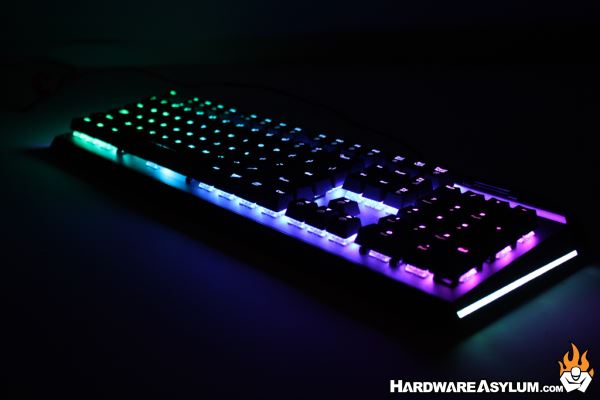 You can even assign colors by the key if you are fan of lighting up your WASD or something. The colors are vivid without being distracting and offer the best ground effects like lighting I have seen in a keyboard thanks to the silver backdrop! There is even accent lighting on the sides.
Conclusion
I have to admit I was not sure what to expect from a keyboard marketed for those "ready to amp up their game" but the Viper V765 is truly everything I like in a RGB keyboard without any of the extra stuff I don't usually use. Personally I tend to favor the Cherry Brown switches but other than have a slightly louder click I found the Kailh White Box Switches responsive and east to get used to.
After about 20 hours of holiday gaming I am a believer. I don't know when the V765 will get bumped back to the shelf as Patriot has really hit the sweet spot with the Viper 765.
It looks great, performs great and won't break the bank.
Good Things
RGB done right
Durable Kailh Box Switches
Clean Aluminum construction
Optional Software package
Bad Things
Software is pretty basic
No detachable cables
Tacky surface on wrist support loves to show dirt
No switch choices available