Roccat Gaming Gear Trio Review
Roccat Gaming Gear Trio Review
Author:

Warren Young
Published:
Friday, January 03, 2014

Introduction
Ask some gamers what their preferred mouse is, and the name Roccat will get its fair share of mentions. Roccat has been specializing in gaming mice, peripherals and accessories since 2008, beginning with the original Kone mouse. Even in 2008, the Kone mouse helped shape the face of the gaming mouse market for years to come. They were trendsetters for their time, providing solid ergonomics, quality construction, and focusing on new innovative customization features. Their Tracking Control Unit (TCU) allowed their laser mice to function effectively on a multitude of surfaces - something that was rather groundbreaking for the time.
Now fast forward to the present day, Roccat has released an updated line of Kone mice called the Kone Pure, and the Kone Pure Optical. The Pure Optical does lack some choices of external body colors, and swaps the 8200dpi laser and accompanying TCU with a 4000dpi Pro-Optic R3 sensor from Roccat's popular Savu line of mice. The Kone Pure line does not offer many of the external customization that we're seeing in the market lately, (adjustable weights, swappable palm and pinkie rests, etc.) but is marketed as an affordable, comfortable, ergonomically built gaming mouse with an onboard MCU processor and memory, to make it a solid gaming contender without breaking the bank.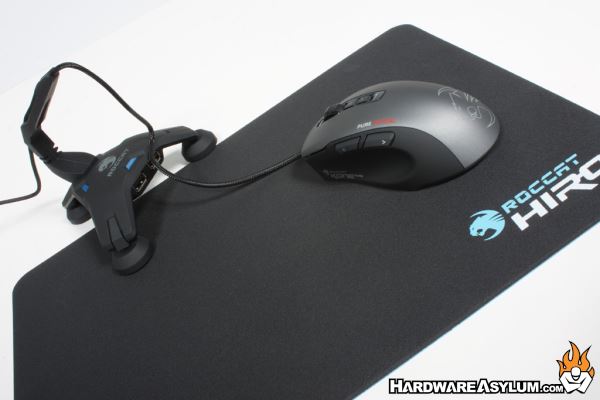 To celebrate the Kone's 5th birthday, we felt this milestone deserved something a little special. So we're taking one of the new Kone Pure Optical's, and tricking it out with some new Roccat mouse accessories for a combo package review. We'll be pairing the Kone up with the Roccat Apuri, a mouse bungee with an actively powered USB 2.0 hub built in, and the Roccat Hiro, a new dual layered silicone soft mouse mat.