ROCCAT Ryos MK Glow Keyboard Review
ROCCAT Ryos MK Glow Keyboard Review
Author:

Dennis Garcia
Published:
Monday, February 03, 2014

Introduction
ROCCAT has really upped the ante with the release of a new line of mechanical gaming keyboards for 2014. The new lineup includes the full size Ryos MK Pro, //MK Glow and two compact ten key less versions called the Ryos TLK Pro and Ryos TKL. Today we will be looking at the Ryos //MK Glow Illuminated Gaming Keyboard. The Ryos is marketed as the most advanced, most customizable gaming keyboard and that's a lot to live up to.
The Ryos MK Glow is a 133 key mechanical keyboard built around the industry leading CherryMX switches and is currently only offered in the CherryMX Black style. Measuring in at about 20 x 9.25 inches (50.8 x 23.4 cm) across the Ryos MK Glow is slightly longer than a typical 101 key with the integrated wrist rest adding about three extra inches.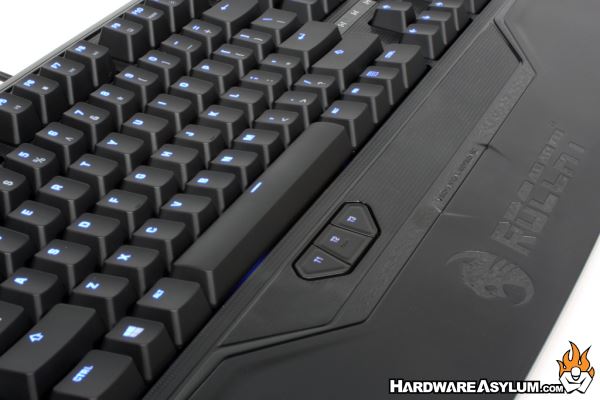 ROCCAT has finished the MK Glow in a satin black micro-dotted surface that is especially resistant to fingerprints and mixes several different textures. The resulting look is quite sharp even if it doesn't come across in photographs well. It's also difficult to see just how vibrant the LED lighting is.
With a separate LED under each laser-etched, UV-coated key, the MK Glow more than lives up to its name. There is no doubt this is the brightest keyboard I have ever seen. Fortunately with an adjustable brightness level the choice of blue isn't a distraction even with the lights off.
Features
POWERFUL KEY ILLUMINATION with a bright LED underneath each key
EASY-SHIFT[+]™ BECOMES EASY KEYBOARD assign a secondary function to virtually any key
N-KEY ROLLOVER means advanced anti-ghosting
HIGH-POWERED HARDWARE 32-bit ARM Cortex processor + 2 MB of flash memory
ROCCAT™ ACHIEVEMENTS DISPLAY keep track of your vital statistics
TOP NOTCH KEY SWITCHES Mechanical CHERRY MX key switches
SMUDGE-PROOF GLOSSY LOOK killer look – with no fingerprints
COMPLETE COMFORT, ROCK SOLID jumbo-size integrated wrist rest
CLUTTER-FREE, SUPER-STABLE SUPPORT in-built cable channel and five rubber feet
ROCCAT™ TALK® – SET BONUS get more out of your ROCCAT™ devices by combining their functions
Specifications
Illuminated mechanical keyboard with 113 keys
Advanced anti-ghosting with N-key rollover
CHERRY MX key switches
3 programmable thumbster keys (T1 – T3)
5 programmable macro keys (M1 – M5)
94 other programmable keys
1000 hz polling rate, 1 ms response time
1.8 m cable and integrated cable channel
Founded in 2007, ROCCAT may be the freshest name in gaming. Not only do they offer a full line of professional level gaming peripherals, they also offer support for the eSports scene with a selection of avatars, custom Counter Strike maps and GUIs. Even their site offers some of the most innovative marketing I have ever seen. Our European friends have been enjoying ROCCAT products for a few years now and only recently have ROCCAT products become more widely available around the world.