ROG Strix Scope NX TKL Moonlight White Review
ROG Strix Scope NX TKL Moonlight White Review
Author:

Darren McCain
Published:
Tuesday, May 17, 2022

ROG Strix Scope NX TKL Software
As with all modern ASOS ROG products, the Strix Scope NX TKL uses the popular ASUS Armoury Crate software suite. This suite combines all ASUS products into a single location. For this review I will concentrate on the keyboard specific tools available.
Some of the features are split across all ASUS products. This build currently has four ASUS products if you include the ROG Maximus XII Formula motherboard. Navigating between devices is easily done via the left-hand navigation.
Selecting the ROG Strix Scope NX TKL Moonlight White from the device menu takes you to the device specific options. On the Keys Menu you can individually map each key or disable Alt+ Tab or Alt = F4 for gaming. Options can be saved to profiles for even more customization.
Lighting can be controlled across all compatible devices from the main menu or from the keyboard specific lighting menu. Lighting can also be controlled directly from the keyboard using onboard key combinations. 11 modes are available or a custom lighting effect can be created.
The final tab is for Firmware Update and allows you to monitor the current version and update when needed. An update was needed right out of the box but took very little time.
ROG Strix Scope NX TKL Lighting
Our ROG Strix Scope NX TKL looks pretty stunning right out of the box but the ROG Aura system provides a nearly endless spectrum to choose from. Syncing compatible devices is simple and easy using the Armoury Crate software.
The lighting is brilliant and bright at its highest level and the effect of the ground lighting reflecting off the Aluminum surface is breathtaking.
Testing
I have been using the ROG Strix Scope NX TKL as my daily driver for over a week and find it easily meets my needs for both work and gaming. Choosing an 80% TKL design means your compromises are pretty manageable making the adjustment period much easier than the 65% keyboards it competes with.
The ROG NX Red switches fell very similar to the Cherry MX keys that helped define the category. If anything, the ROG NX switches are smoother and quieter than the classic Reds I have used.
For gaming I quickly adapted to the formfactor and found no negatives to my FPS experience. I never missed the ten key section and noticed no adverse change in my performance. Over several sections I found I no longer missed my ROCCAT keyboard. Impressive!
Conclusion
The ASUS ROG Strix Scope NX TKL Moonlight White keyboard is by far the most attractive white keyboard I have used. I love the smaller TKL format. Combining the smaller footprint with a full featured mechanical gaming keyboard just makes sense.
Choosing a small form factor keyboard often requires you to accept some compromises to get to a smaller size. The ROG Strix Scope NX TKL requires almost none of these compromises making it a near plug and play change in a smaller footprint. I can strongly recommend the ROG Strix Scope NX TKL keyboards as my favorite TLK keyboard design to date. I will not miss my full-sized keyboard at all!
Good Things
Beautiful Color Scheme
Great Mechanical Feel
Best in Class Software Suite
Small Footprint Without Compromise
Bad Things
No Tenkey, Duh
Proprietary Cable Port
Switches Are Not Hot Swappable
Hardware Asylum Rating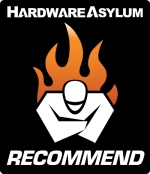 ROG Strix Scope NX TKL Moonlight White Review
Recommend
https://www.hardwareasylum.com