ROG Strix Scope NX TKL Moonlight White Review
ROG Strix Scope NX TKL Moonlight White Review
Author:

Darren McCain
Published:
Tuesday, May 17, 2022

ROG Strix Scope NX TKL Layout and Features
You have many smaller keyboard formfactors to choose from these days but the most popular are the 65% and 80% or Tenkeyless (TKL) shown here. With the 80% you give up the seldom used ten key area while the 65% also removes the function keys. Both can also compress or combine keys to maximize space.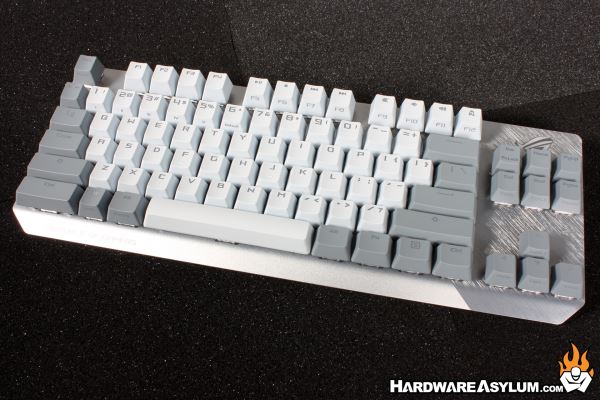 The Moonlight White color scheme combines White and grey keycaps with an attractive brushed aluminum faceplate. The effect is probably the most stunning white keyboard I have ever seen. Pictures do not give it justice.
ROG has included what they call Xccurate Design – an extra-wide Ctrl key on each side. This design makes finding the Ctrl key more intuitive when gaming.
Here is a closer look at that aluminum surface. I love the decision to use two different finishes on the surface. The effect is even more pronounced with the RGB reflecting off that surface and accenting the ROG logo. Many of the keys have their alternative functions on the front surface helping keep the look uncluttered.
ROG offers the choice between three different variants of their ROG NX switches. You can get the Scope NX with ROG NX Red, Brown or Blue switches. These switches are very similar to their Chery MX namesakes and very smooth and predictable in use.
The back surface has a similar style with a recessed USB -C port and retractable feet. Unlike most keyboards in this category, the ROG design has a nice rubber pad to keep your keyboard firmly in place.
A 1.8 meter (~6 foot) detachable braided USB cable is included in a matching color scheme. I love a detachable cable as it keeps the most common failure point from totaling a great keyboard. The actual port is a specific size making finding an aftermarket replacement a bit less likely.