Silverstone EC04-E PCI Express USB 3.0 Expansion Card
Silverstone EC04-E PCI Express USB 3.0 Expansion Card
Author:

Dennis Garcia
Published:
Friday, March 14, 2014
Introduction
System upgrades are a glorious thing and still one of the best ways to extend the life of your computer. Common upgrades include things like adding more memory or swapping processors but, there comes a time when drastic measures need to be taken like swapping a motherboard or migrating into a new case. This is where some things sometimes don't go as planned and you run into compatibility issues. Case in point your shiny new chassis comes with front mounted USB 3.0 ports and the internal 19-pin USB plug but your motherboard doesn't.
In this mini review we'll be looking at the Silverstone EC04-E which is a half height PCI Express expansion card that will give your system four additional USB 3.0 ports, two external and two internal. Unlike some of the other USB expansion cards you can buy the Silverstone EC04-E comes with a built-in power connector for ease in running more demanding devices and rapid device charging.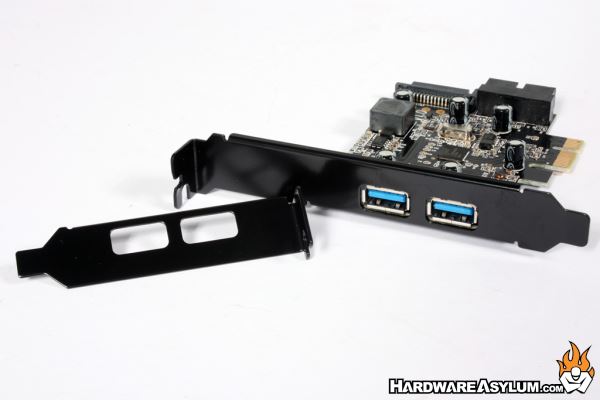 Specifications
Model No. SST-EC04-E
Form factor Low profile single lane (X1) PCI Express 2.0
USB 3.0 controller NEC uPD720201
Power Requirement5Vdc via peripheral 15pin SATA power connector
USB Ports Two external ports and one internal dual port
Transfer speed USB 3.0 (5Gbit/s), USB 2.0 (480Mbit/s), USB 1.1 (12Mbit/s)
Port Interface USB 3.0 (Max. 5Gbit/s) backwards compatible with USB 2.0
USB bus power output5Vdc with unlimited power current
OS Support Windows XP, Vista, 7 , 8 (32bit/64bit)
One of the biggest strengths of a modern PC is the ability to upgrade and expand the system to support a wide variety of things from multiple graphics cards to high-end sound The Silverstone EC04-E gives you the ability to provide USB 3.0 support to any system with an available PCI Express slot.
For our testing we installed this card into two different systems. The first was the EVGA X79 Dark which is a full featured motherboard with onboard USB 3.0 and plenty of expansion slots. The second test was on an older motherboard the Gigabyte X58A-UD3R. This motherboard also features USB 3.0 but had no internal header. Both motherboards accepted the Silverstone EC04-E without issue and only needed to install the driver to access the device.
Overall speed between the onboard and EC04-E USB 3.0 ports were identical and aside from a different device name you wouldn't know the difference. In terms of compatibility we were able to use both USB 2.0 and USB 3.0 devices on the EC04-E which is sometimes an issue when using motherboard USB 3.0 ports.
The biggest question when it comes to expansion cards is "do I really need one?" In most cases If you have a modern motherboard you will have USB 3.0 support already and short of needing "more" ports there may not be any benefit. We feel the most common application for the SST-EC04-E will be when your system doesn't have an internal USB 3.0 header and your chassis does. By installing the card you'll be able to use the front mounted USB ports and have a couple extra ports in the back . Likewise if you have an older motherboard without USB 3.0 then installing the Silverstone EC04-E is a quick and easy upgrade for high speed data transfers.
Available Images